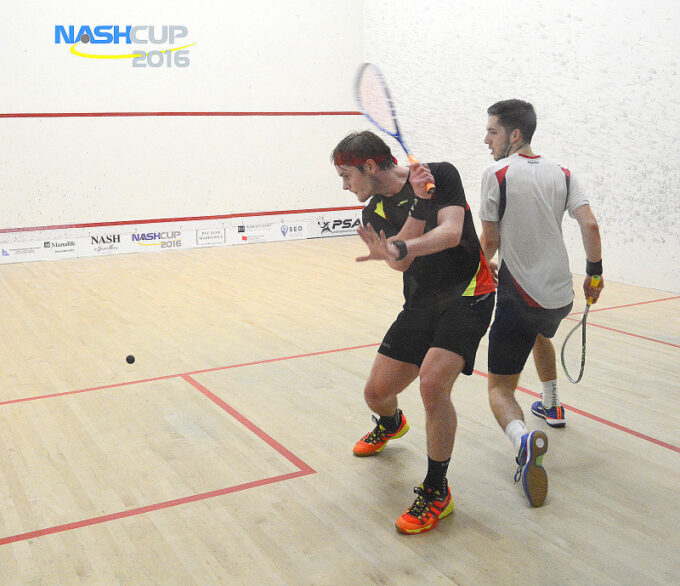 NASH Cup 2016 – Day 4 Recap
Another great day at London Squash & Fitness. The first NASH Cup Doubles Pro/Am ran from noon to 5pm featuring 10 teams competing in round robin matches followed by a hard fought final match featuring the teams of Trevor Tyson/Cameron Stafford and Jay Nash/Nikki Todd. This match could have gone either way, but Trevor and Cameron were able to squeak out a 15-12 win. $250 was raised for Junior Squash. A great afternoon which has the potential to be an annual part of the tournament.
The ladies had the day off today and will return for the Semi-Finals at 2pm tomorrow.
Below we once again feature a number of different writers….whose work has been diligently reviewed before sending….
5pm Diego Elias [1] (PER;34) vs Andrew Schnell [7] (CAN; 62)
Diego Wins     (11-6;9-4;retired) 23min
6:15pm Henrik Mustonen [6] (FIN; 60) vs. Olli Tuominen [4] (FIN; 47)
Olli Wins         (11-8,19-17,11-2) 46min
7:30pm Douglas Kempsell [Q] (SCO;114) vs. Ben Coleman [5] (ENG; 53)
Ben wins         (12-10;8-11;11-9;11-6) 82min
8:45pm Jan Van Den Herrewegen (BEL; 100) vs. Declan James [2] (ENG; 39)
Declan wins    (7-11;11-7;11-8;11-8) 73min
5pm Diego Elias vs Andrew Schnell
11-6, 9-4 (retired)
23 minutes
Brad (Stingray) Hanebury, better known as Chris' brother, reporting in from the front lines of Court 2 at London Squash's Nash Cup. Having played in the qualification rounds at the Nash Cup several times in the past, I find it uniquely satisfying to not be the person getting run around the court by someone ten years their junior. Although the lack of free beer & meals for players is sorely missed. Is there free beer while I comment on this match? This reporter will investigate.
The match begins with both players looking poised and ready for battle. Diego relaxed and lithe, Andrew looking fit and lean after a summer of running up and down mountains.
Several rallies into the first game the players are feeling each other out. Andrew focusing on closing the court down, Diego on getting his feel for the front court. However, as the game enters the fourth quarter, Diego pulls away with a few well-placed winners. He takes the game 11-6.
In between games, Andrew stops by the hill next to the club and runs a few sprints…..That joke brought to you (poorly) by Serious Squash.
Also, Jay Nash has informed me that no, match commentators do not receive free beer. Tragic.
The second game begins with Diego looking very relaxed, while Andrew appears determined to up the pace and intensity of play. A long rally early in the game has Andrew displaying some excellent retrieval skills and Diego expertly placing the ball across all corners.
A terrific and painful rally early in the second game ends with a No Let to Andrew. Several moans and grunts were audible from the crowd, who — through the golden lens of time — misremember being able to perform similar feats in their youths.
Andrew, potentially sensing a lap in concentration by Diego, makes some headway for several rallies and nearly ties the game up. However, Diego (hearing the voice of his disgruntled Father from afar?) regains his focus and pulls out a few magnificent winners. Yes, magnificent.
In a sudden and unfortunate turn of events, Andrew stops near the end of the second game and concedes the match to Diego. His injury from the night before had clearly been weighing on him and, rightly so, he stops play.
Not a lot to say from Diego, shame to win that way, but fresh for tomorrow.
6:00pm Henrik Mustonen vs Olli Tuominen
Olli wins 11-8;19-17;11-2 (46mins)
Henrik and Olli generously agree to start the match 15 minutes early after the first match ends so quickly.
Game 1
An all Finnish Quarter final…this has certainly never happened in the NASH Cup before.  Both players are incredibly fit and fast.  Long hard rallies with plenty of variety.  After some back and forth points Olli turns up the heat squeezing Henrik several times to take a 6-2 lead.  Some sloppy play from the elder statesman and Henrik is right back in the match at 8-8.  Olli forces some hard rallies and a few let calls extend the last few points of the game but Olli comes out on top 11-8.
Game 2
Some of the longest rallies of the tournament to start this game off.  10 minutes of play brings the score to 2-3.  A few tired stroke calls going Olli's way.  Back and forth high paced rallies bring the score to 5-5 when Olli loses his length and Henrik is able to pull ahead 7-5.  Olli shows his maturity and puts some work into Henrik's legs.  He's slowing down considerably near the end of this game and Olli is winning a lot of points off of loose shots from the younger Fin.  Score gets to 9-9 when Olli hits a nice volley drop nick to go up game ball.  An incredible rally at 10-9 down using every corner of the court and Henrik pulls even 10 all.  Olli makes a quick tin after that long rally to give Henrik his first game ball which after 45 shot rally Henrik boasts into the tin to draw the game even again.  These two just won't quit. Another agonizing rally and Olli squeezes the younger player against the sidewall in the front left to get his own game ball.  More back and forth and its 14 all.  My hands are getting sore from the typing but its 16 all and both players are looking exhausted but still playing high quality shots.  Olli squeezes a tight one on the backhand side and wins 19-17.  Olli up 2-0 in games.
Game 3
The third does a 180 from how the second went.  Tins on almost every rally for the first half of the game has Henrik down 6-1 quickly.  Henrik is struggling to stay upright and Olli dominates winning 11-2. Olli Wins 3-0.
Ollie: "Really happy to get off in 3. Played pretty well, had a good game plan to keep Henrik buried at the back, that's where he then starts to push the issue and I can take advantage. Only in the 2nd game did I maybe get away from that, playing too many early angles and opening up the court for him. 19-17 is like playing 2 games so to go 2-0 was crucial. He was playing some great shots to the front in the 2nd which I was struggling with. Not sure what happened in the 3rd but fine with me. As it was still 45mins hard squash compared to Diego's half a game! I wasn't moving very well off the ball today which caused a few issues with the decisions, I'll later apologize to Henrik – but you know me….it wasn't intentional that just happens some days when you don't feel quick, and I am 37!.
7:30pm Douglas Kempsell vs Ben Coleman
Ben wins12-10,8-11,11-9,11-6 (82mins)
Game 1
Ben serves first. 30 shot rally score 3-1 for Doug. Rallies are long and hard fought 3-3.  Long rallies ending in lets. Doug leading 6-3. High overhand wins the point 8-4 for Doug. Winning lob shot dies in back corner by Ben now 7-8. Many lets in this 1st game. Now 10-8 for Doug. Doug tins 10-9 now. Great wrist shot to back corner by Ben 10-10. 4 lets on one rally still 10 all. Side court nick 11-10 for Ben. Ben finishes with a hard drive, Ben wins 12-10. Doug was aggressive but Ben won out.
Game 2
Quick start 2-2.  Play stopped for broken string and racket by Ben. Doug with slight lead at 4-3.  Doug pulling away at 6-4. Doug misses drop 6-5. Tinned now 6-6. Front court drop nicks out 7-6 for Ben. Side court nick now 7-7.  Pace is picking up 8-7 for Ben. Ben tins 8 all.  Doug makes a nick 9-8.  Game to Kempsell 11-8.Game 3.  1-0 to Doug. Now 3-1, Kempsell moving ahead. Both players using the lob effectively.  Doug wins drop shot now 4-2.  Doug tins a back court drop shot 4-3.  Doug just made one of those tricky behind the back strokes but managed to be too close to the ball on the bounce back for a stroke to Ben, 4 all.  Ben moves ahead 6-4 after 2 strokes against Kempsell. Ball out of court 6-5. Kempsell gets a stroke back 6 all. Doug tins out 6-7. Kempsell makes a hard volley nick out, he has made several of these. 7-7. Ben tins 9-7. Doug makes a winning boast in a game with very few boasts, 8-9.  It's a dog fight 9-9. Doug tins; Ben has game ball 10-9. Ben finishes again with an un-gettable hard back court drive 11-9 for Ben.
Game 4
Kempsell jumps to 2-1 lead. Nice drop evens out game at 2 all. Lots of lets being called. Ben jumps ahead 4-2.  Kempsell tins out and is behind 6-3. Lob is working well for Ben 7-3.  Coleman running away with it at 9-3. Kempsell fighting back 9-5. Long rally 9-6. Coleman makes drop, match ball. Kempsell misses boast, Coleman takes the game 11-6 and match 3-1.  Coleman made many great defensive shots and retrieved the ball well, defending against Kempsell's great offence. Great aggressive match, good job.Ben: "Happy to get the win. He played great, I didn't bring my best squash but ground it out. I'm having a great tournament and looking forward to the semis. The crowd was awesome today, it was like a party atmosphere!"
8:45pm Jan VD Herrewegen vs Declan James
Declan wins 7-11,11-7,11-8,11-8(73mins)
Game 1
Backhand exchanges dominate the early part of the first game. A few early unforced errors on both sides keep the score close until the 6-5 point. Several attempts to bring the ball short by Jan have been favourable to James. The back of the court, however, was fruitful for Jan and he takes the latter part of the game with a few decisive deep winners. Jan was slightly more physically exhausted by the first, but grabbed it 11-8.
Game 2
James defends the tee early with some contact, and a few close exchanges result in a precedent of 'no lets' for the Belgian player-despite the difficult size of his opponent. Declan works Jan around the court for the majority of the game, and leads to some errors, and decision victories for James. James is careful to keep it off the tin, despite being exhausted substantially in the latter part of the game. James finishes the Belgian 11-6 to take the second in extraordinary fashion, as the crowd erupts after a long and entertaining battle.
Game 3
'Jan the mon' leads the 3rd with a few winners. It's obvious that he is still hurting from the work done in the first two games. Declan using the majority of the court to extend the pressure on the Belgian. He controls the tee for the large part of the mid game, and uses his physical edge and size to grab a few crucial rallies. A close rally at 9-7 ends with a floor mop by the one and only Derek Moore (of London Squash fame). After the local celebrity left the court, the match continued with the same physical advantage held by the Englishman, and he closed out the 3rd by the score of 11-8.
Game 4
Jan comes out with a hop in his step and takes the early lead, sustaining it to an 8-5 advantage. James tightens his focus and takes the next 5 rallies, playing great squash. Declan closes out his first match ball with a deep length, and enough contact to limit the Belgians ability to retrieve. A very reflective shot to end the very entertaining quarter-final. Both players deserve a lot of credit.
Declan: "Way better than last night to be honest. Jan played great tonight, I expected him to do so and wow did he! Towards the end of the 2nd I finally realised what I needed to do and started to stretch the court out. With this my fluidity came in and that's when I start to play my best. For me movement is key. It's so important to vary the pace and break the movement of your opponent, I always have to be careful not to get stuck playing one pace. Look forward to tomorrow, I had a great summer and looking to push forward this year, so a great start is what I'm looking for."
It was a sold out crowd at London Squash tonight with many standing throughout the matches. The crowd was really into it reacting loudly to intense rallies and the referees' calls. These weren't easy matches to ref, and full credit should be given to the team that is in London for the quality work that was done.
The tournament's Live Stream is reaching nearly 25% more people than in 2015 and has already been seen in 68 countries around the world. Each year the event's reach expands through the use of social media.
The tournament will now shift to a broader mandates featuring a Junior Pro/Am in the morning for over 20 kids (schools in the region have a day off); a "meet the pros" BBQ lunch; both Semi-Finals; and the arrival of 75 amateur players competing in 8 divisions of play…It all ends Saturday.
Friday Schedule
11am                           Junior Pro-AM
11:30am-1:30pm        Club BBQ                              Members and Non-Members Welcome
2pm                             Women's Semi-Final #1        Christine Nunn [1] (AUS; 37) vs. Misaki Kobayashi [3] (JAP; 48)
3pm                             Women's Semi-Final #2        Samantha Cornett [4] (CAN; 48) vs. Danielle Letourneau [7] (CAN; 67)
4pm                             Amateur Draw Begins          75 players descend on LSFC
7pm                             Men's Semi-Final #1             Diego Elias [1] (PER;34) vs. Olli Tuominen [4] (FIN; 47)
8:30pm                        Men's Semi-Final #2             Ben Coleman [5] (ENG; 53) vs. Declan James [2] (ENG; 39)