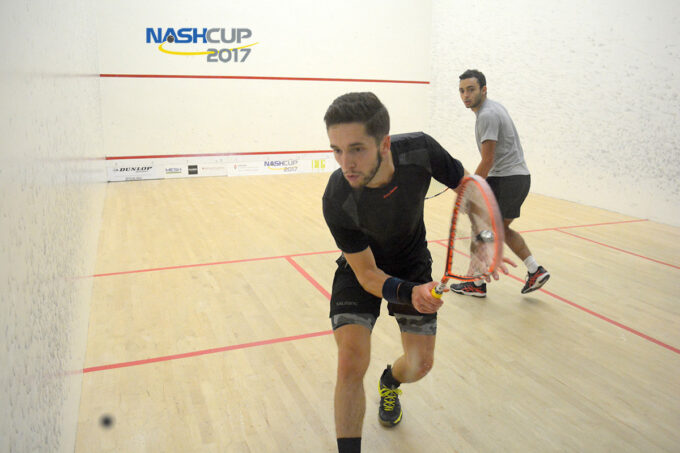 NASH Cup 2017 Day 4 Recap
Only 6 matches remain in the 2017 NASH Cup….and they should be great to watch.
A BBQ at London Squash today in 28 degree weather was followed by an afternoon of Pro/Am Hardball doubles. The club doubles court has now been converted to a player reception / lounge area, in preparation for the 90+ amateur players who will begin competition tomorrow. It's going to be a VERY busy club. Thank you to GoodLife Fitness for sharing their 4 courts in Citi Plaza. The amateur draw would be a lot smaller without you.
The 1st NASH Cup exhibition matches in Chatham must have been a smashing success as there still hasn't been any news come from there….perhaps we will be able to provide pictures tomorrow.
A special thank you to Colin Nash and NASH Jewellers tonight. He was able to obtain some beautiful freshwater pearls and have them hand strung. These were provided to all the professionals participating in the draw tonight. There isn't a huge amount of money in squash, and it great when our sponsors can enhance the experience for our visiting professionals.
Play kicks back in at 5:30pm Friday!
Reports:
Tom Richards(ENG) vs Farhan Zaman(PAK) 11-3,11-8,13-11(37mins)
Tom: Happy to close it out in the end, I was ahead for most of the match. Got a little bit sloppy in the 3rd, maybe even a little bit junioresque! At 31 you'd hope it'd be out of the system!
Jay: You were at 12 in the world, after the injuries etc, are you on your way back?
Tom: when I was at 12 in the world I completely tore my hamstring in 2 bits. I was 8 months out, but that tells half the story! It takes a long time to get back nowadays as everyone is fitter and stronger than ever! I lost a bit of confidence, I rely on my movement a lot, and I kept getting niggling injuries and it was really around 18months before I was back. I feel as fit as ever right now, maybe my engine is even fitter. Maybe not quite as quick, but the game has changed a lot over the last few years. I was at 12WR and was pretty dynamic, but there seems to be more players that are even more dynamic!
Nikki Todd(CAN) vs Misaki Kobayashi(JPN) 6-11,11-7,13-11,7-11,11-2(47mins)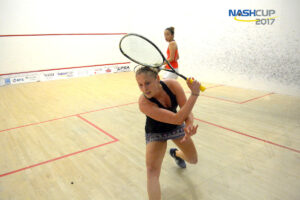 These two look to be well matched. Nikki has been strong, but Misaki has a calm presence on court that can almost be unsettling. Kobayashi jumps up 4-0 early in the first game. Todd takes time to find her rhythm. Kobayashi trips over Todd in the third and Todd manages to work her way from down 0-4 to up 9-7. Todd hits a beautiful lob in the third to move to game ball. Kobayashi ties it up, but then hits tin at 11 all eventually allowing Todd to win 13-11 and move to a 2-1 lead. Fourth game starts off strong with some amazing rallies. Both girls making great digs. Kobayashi goes up 4-0 early again. Kobayashi hits a "shady mcgradey" boast serve back to back. Kobayashi up 10-6 with game ball in the fourth. Kobayashi nails a beautiful drop to close out game four.
Todd comes out roaring in the 5th up 6-0. Todd is controlling the game, up 7-2. Kobayashi a little defeated at the tail end of the match. Todd wins 3-2.
By Sujai Shah
Nathan Lake(ENG) vs Jan vd Herrewegen(BEL) 10-12,11-9,7-11,11-4,11-4(84mins)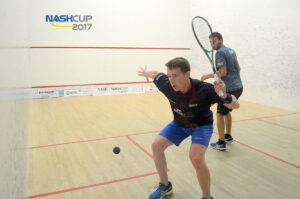 Lake to serve the first ball of the match as the camera man is taking pictures outside the court with the flash on and Jan ask him to shut it off. Both the players reaching unbelievable gets but something falls from the balcony during the rally i wonder what it is…. it's a piece of food. Not something you would have expected.
Back to the play. Both playing as gentlemen on court. Jan down 8-9. He serves and has a tough rally at least 50 shots only to have a let called. Jan comes back and wins 2 of 3 points to make it 10-10. Another long rally and Jan hits a beautiful drop to make it 11-10. Then a 10 shot rally and Lake hits the tin closing the first game with an error.
The second game gets going with 5 long rallies resulting in a 4-1 lead for Jan. After a stroke is called against Jan and 2 other points its 4-4. Nathan jumps up 8-5 playing way tighter then the first game. Jan gets a couple on the scoreboard cutting the lead to 8-7 for Nathan. After getting 5 let calls Lake takes the lead to 10-8. Jan is playing some amazing holds and get Lake's legs to stop, but Lake pulls though winning the second 11-9.
After more long rallies in the third Lake is up 4-3. A very long rally has Jan running all over the place, but he manages to play a fantastic drop at the front. After that amazing rally Lake gets frustrated with the ref's and goes down 3 points. Lake gets a couple points backs making it 9-7 Jan. Jan wins the third 11-7.
As lake gets a burst of energy at the start of the fourth and is up 4-1. Jan still down 4-9 and looks like he is giving up on the game.
Jan is slow getting back to court between games as he executes a full wardrobe change…right down to new shoes. As has been noted the courts are extremely warm and the squash ball is playing hot. The rallies in the 5th game are intense, but Nathan is clearly getting the better of it. Jan just can't seem to make it stick this game and he loses the fifth 11-4.
Nathan: very pleased with the 4th/5th as I was very tired after the 3rd! The heat from this heatwave is crazy! So I slowed it down and made the court longer for him. Glad it worked. As always it was a very clean game with Jan as he moves so well. Credit it to him as this was his 4th match in 4 days in this heat, impressive!
Amanda Landers-Murphy(NZL) vs Samantha Cornett(CAN) 10-12,9-11,6-11(32mins)
Both looking ready for the match at the start and they come out strong. Sam, the Canadian, has the crowd. She earns first serve and the rallies are strong. Amanda seems really prepared and she wins a very tight first game more easily than the score would indicate. Sam did not get off to a good start. In the second Amanda is still controlling the T very well and controlling the game. Sam had a couple good shots but not enough of them and she lost the second. Third starts off well for Sam and she's up for half the match but she can't hold off the aggressive play that Amanda is putting down and loses in straight games
Fiona Moverley(ENG) vs Danielle Letourneau(CAN) 11-6,11-9,6-11,11-6(41mins)
Danielle, our 2016 NASH Cup Champion, played well against Moverley. Both played very tight shots and had some amazing rallies which made the crowd go insane! But Fiona took the first game pretty easily. In the second the Canadian played better, but still wasn't strong enough to take it. In the third game Moverley seemed to get tired and Letourneau came on strong in what looked like a turn in the momentum. The fourth game was aggressive with some exceptional rallies. Both players shifted from hitting along the wall; to tailoring tight drops into the front corners; to living the ball high and resetting the rally. Danielle looked strong but made a few unforced errors which proved to be the difference in this one. Fiona moves onto the Semi Finals.
Youssef Soliman(EGY) vs Ben Coleman(ENG) 11-6,11-9,11-4(38mins)
Soliman and Coleman had a good battle. They both played an amazing match, but Soliman was able to snag the win 3-0. Soliman had some exceptional shots throughout the match making sure he had control of the T at all times. Coleman hit some strong shots in the front court and definitely played a strong match, but Youssef proved to be too much.
Youssef: I "felt" the court so much better tonight. My Basic game was deeper than yesterday and therefore I always felt in control. I'm going to win against Joel tomorrow for sureJ
Joel Makin(WAL) vs Nick Sachvie(CAN) 11-2,11-1,11-4(37mins)
Makin definitely played a good game of squash against Sachvie. It rumoured that he has been spending time training with Nick Matthew….and it shows. He did a good job of controlling the T and the match in general. He kept Sachvie in his toes and running throughout the whole match. Sachvie played very well, proving why he's currently the top Canadian, but he just wasn't completely there. It looked as if he was having some shoulder issues throughout the match. Nick never gave up and kept pushing hard, but it will be Joel on court tomorrow night.
Joel: played well, my length was great and therefore the pressure was high on Nick. I had way more rhythm than last night, so getting better on the warm courts, ( we are in the middle of an heatwave with record temperatures in London, Ontario!),. It'll be tight with Youseef, we've played once and think it was a 11-9 in the 5th to me and we are within a couple of places on the ranking. So I expect a tough game.
Thursday Match Summary
Millie Tomlinson [1] (ENG;22) bt. Nouran El Torky [Q] (EGY; 71) 12-10,11-6,6-11,9-11,11-6(51mins)
Nikki Todd (CAN;62) bt. Misaki Kobayashi [6] (JAP;39) 6-11,11-7,13-11,7-11,11-2(47mins)
Tom Richards [1] (ENG;39) bt. Farhan Zaman [8] (PAK; 61) 10-12,11-9,7-11,11-4,11-4(84mins)
Nathan Lake [5] (ENG; 52) bt. Jan Van Den Herrewegen [Q] (BEL; 96) 11-3,11-8,13-11(37mins)
Amanda Landers-Murphy (NZL;44) bt. Samantha Cornett [3] (CAN;29) 10-12,9-11,6-11(32mins)
Fiona Moverley [2] (ENG; 24) bt. Danielle Letourneau [8] (CAN; 43) 11-6,11-9,6-11,11-6(41mins)
Youssef Soliman [3] (EGY; 48) bt. Ben Coleman [7] (ENG;54) 11-6,11-9,11-4(38mins)
Joel Makin [2] (WAL; 47) bt. Nick Sachvie (CAN; 69) 11-2,11-1,11-4(37mins)