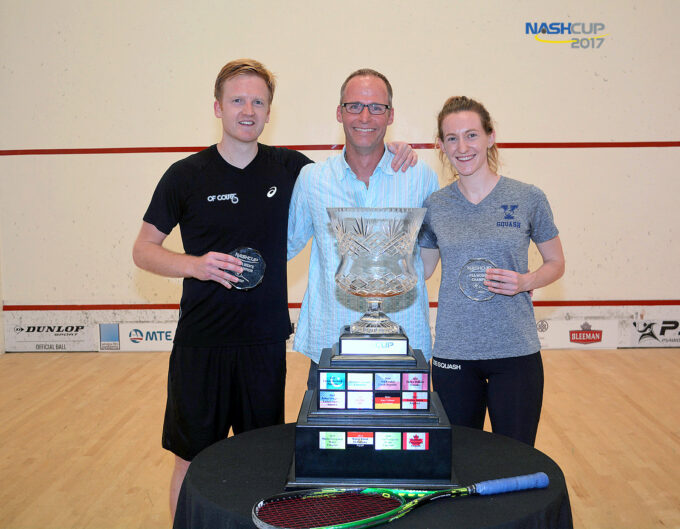 NASH Cup 2017 Day 6 Recap
The Finals
This amazing week reached its end with our 90+ amateurs competing throughout the day Saturday. The "All Western" Open final went 5 games with David Mill managing the win and setting the tone for the evening ahead. Our annual skills challenge match kept the sold out crowd entertained until the real events – The Men's and Women's Final – began. Thank you to professionals Ashley Davies, Lyell Fuller, and Alison Thomson for participating this year along with members Derek Moore, Rob Doherty and Holly Delavigne.
This full week of competition is a massive undertaking and we owe thanks to a large number of people and companies who helped make it happen. The NASH Cup Committee; Our Sponsors; The LSFC Staff; The Tournament Billets; and Rael Wienburg Photography. Two individuals deserve a special mention. Tom Panabaker (LSFC Manager) and Jay Francis (LSFC Professional)as each put in over 100 hours of work this past week. Their tireless efforts are a huge part of what makes the NASH Cup great.
The week started with 55 players from 18 countries, some of whom had spent over a full day traveling to get to London Ontario. Spectators were treated to an incredible display of skill, and those at London Squash and Fitness had the pleasure of getting to know these athletes personally. The number of players was reduced each night, though many stayed to watch their peers and take in the unbelievable weather we have enjoyed. These players are now moving on to other events around the world and we wish them all the best. Those following NASH Cup on facebook will continue to receive updates each month regarding which of our past players has reached new all-time highs in their world rankings.
Mark your calendars now. The NASH Cup plans to return in 2018 from September 17th to 22nd.
Sponsors are now being confirmed…and tickets will become available January 1st.
Have a great squash season!
2017 Nash Cup Finals – September 23
(1)Millie Tomlinson(ENG) vs (2)Fiona Moverley(ENG) 9-11,11-8,14-12,11-8(65mins)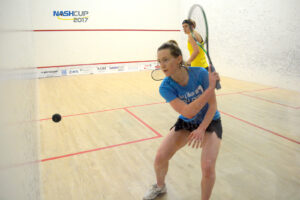 The players warm up, Millie the number #1 seed and Fiona the #2. They have faced each other a couple times before this match and the crowd is informed that the winner of the last meeting was Fiona.
Millie has a very tough start going down 5-1. Fiona is playing very well controlling the pace. Millie fights back making some amazing and tight shots to bring it back to it 7-7. Ouch! that must of hurt. Millie just nailed Fiona accidentally with the ball and picked up a stroke. A bit of loose play from Tomlinson and Fiona ties it at 9-9. 10-9 Moverley as Millie breaks a string and requires a replacement. Fiona hits a beautiful drop to finish the first game.
Fiona's first serve is met by Millie hitting a cross court right away. The game is on now! After a couple more amazing rallies the score is 5-3. Millie makes a pick that looked pretty good but Fiona questions the call. The call stands. The score is now 10-4 and Fiona making some errors. 10-7 has Fiona coming back strong. It goes 10-8 and the crowd can feel a momentum shift, but it isn't to be as Millie closes out the second game.
What a crowd pleasing match so far with the games being tied 1-1. It's 2-2 to start the third off strong by both the players. "What a get!", I hear from the crowd but the ref doesn't think so. The play progresses to 7-5 Millie. Fiona, showing some frustration with the ref's, hits a cross court nick. 9-9 with some more tough calls. 10-10 with both battling hard and Millie hits it out to make it 11-10. Millie hits an amazing drop to make it 11-11. Back and forth it goes to12-12. Fiona misses two great opportunities and loses the game 14-12.
The fourth game starts with Fiona hitting two amazing winning shots. Fiona is again controlling the game very well and is playing the amazing squash she has been displaying all week. Millie appears to be very tired and is just shooting. 7-4 is the score for Fiona. But Millie makes an amazing comeback to 8-7. Moverley looks exhausted now. Stroke for Millie after a loose drop. Match ball I hear from the ref and Tomlinson pushes through and wins 11-8.
Report by Jayden Shortt
Millie: Great to come back for a 2nd year and get the title! My ranking is rising, 22, this solidifies my ranking and will help to improve it. Edgy start tonight, I was ready but Fiona came out strong. (Record temperatures in London, Feel facture 39 today!), probably favoured me today over Fi. I really worked all 4 corners to work Fi, she's better than me at the front, so I looked to extend the rallies and wait for her mistakes. I like that kind of play.I got lucky, it worked out okay today!
(1)Tom Richards vs (2)Joel Makin(WAL) 9-11,11-4,15-13,11-5(85mins)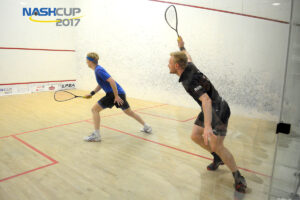 After being called things like "deep intellectual humour" by DAC pro (and typical angry Aussie) Mick Joint, the Stingray reporting column is back in action.
There was a noticeable tension in the air at the London Squash (& Fitness) & Racquets club tonight, as members weren't sure if Stingray a.k.a. Chris' Brother, was going to be invited back to report on a match. A grassroots movement was started by an anonymous group (Gary Sullivan) which, for the first time in all of history, proved to be successful. One of the terms of this reporters assignment is that he make amends to John Anderson for the comment last night regarding his match win. This reporter agreed, but has no intention of taking back what he said. There's a reason that our city league team was called the "Not Johns". Anyhow, the players warm up, looking very serious and focused. Makin looking particularly in "the zone", likely due to the gangster rap he was listening to during pre-match prep (it was Biggie, if you're interested).
Conditions, as expected, are very warm again tonight. We've been told that air conditioning is running, but this reporter suspects that they've purposely left it off. This reporter is on the story.
The first game starts with Joel "Makin Bacon" Makin, playing very proper and structured squash. He goes up 3-0. Tom "Sheeran" Richards, possibly distracted while mentally writing lyrics to his next big single, makes a few unforced errors. However, he quickly turns it around and comes back to within one point of Bacon Makin.
The pace in the first game is fast and furious™. Neither player seems particularly bothered by the court temperature or ball speed.
A "mega rally" at 4-4 ensues and ends with a wonderful front court winner by Richards to get him up to 5-4. Not to be outdone, the players undergo another rally of punishment with Bacon Makin being the winner this time. The crowd goes wild, but in a Canadian sort of way, which means they clap politely followed by downing shots of maple syrup.
As the first game progresses, Richards begins pulling away to go up 9-6. The pace and variety of shots the players are making is mesmerizing the crowd, although they are all fairly intoxicated, so take that as you will.
Makin fights back to 9-9 in the first after Richards hits an unforced error to end a long, arduous rally. Will the wisdom and experience of Richards or the youth and vitality of Makin prevail?
Two quick rallies and Makin wins the game 11-9. John Anderson is overheard commenting that the players are being very inconsiderate to the crowd by playing such long rallies. This coming from a guy that literally serves out 3-4 times per game.
This reporter has just learned that Richards is actually younger than him. What have I done with my life…
The second game begins with neither player showing any signs of distress from the previous game. These guys must train at least 2-3x a week.
At 2-2, Richards hits a back court nick to win the point. He apologizes to Makin for the lucky point, but we've all been there before. He's not sorry.
As the second game progresses, Richards starts to pull ahead and goes up 6-2. A long rally ends with the refs calling Makin's ball down. Keith Sequeira is overheard saying "is 1 1/2 bounces not good?", to which everyone who's ever played him rolled their eyes. Then there is a stroke call that, according to Chris "Kung Fu Panda" Lee, Richards was all over like a "bun on a bologna sandwich", whatever that means, gives Richards an 8-3 lead.
Next rally, Makin is in the front court and attempts a tricky shot down the mid court, but Richards was ready for it and wins the point. Another quick point and he goes up 10-3 game ball. Two points later, Richards wins the game 11-4.
This commercial break is brought to you by Bud Lite Lime: when you're craving a beer but have absolutely nothing else in your fridge, there's Bud Lite Lime.
As game three begins, Makin is looking more tired than Richards, yet Richards lets him off the hook by hitting several unforced errors. Makin leads 3-0. Unhappy with the errors, Richards puts in a long rally to get his first point of the game. Makin responds by upping the intensity of the next rally to maintain a three point lead at 4-1.
Makin continues pulling away in the third game, going up 7-2. Richards, clearly not in love with the shape of the game, tries to regain his composure. A very impressive rally with excellent retrieval skills displayed by both players allows Richards to get back to within five points at 5-8 down. At 6-8, a slippery grip (is Nathan Lake still in the club?) causes Richards racquet to relieve itself — retreat if you will — from its rightful place in his right hand.
Richards pulls back to 8-9 in the game. Makin is looking a little slower on the ball, but Richards lets him off the hook by hitting a drop into the tin. Makin leads 10-8. A tense call ends with a let for Makin. The crowd is heard suggesting everything from a No Let to a Stroke, which just goes to show that democracy doesn't work, although I guess Donald Trump had already shown that.
At 10-10, Makin has Richards on the ropes. He goes up 11-10. The next rally ends with a controversial let, although it is quickly eclipsed by a let call to Richards, who was apparently expecting a Stroke. Richards, not happy, gets himself fired up for the next point that he wins on an excellent point. Probably the most emotion he has shown on court this entire event. He's certainly fired up
Richards wins the following point 12-11. The crowd is loving this match, while at the same time, inwardly, realizing just how terrible they are at squash in comparison.
Some more controversy ensues as Makin leaves the court prior to the end of the game, claiming that his shoes are dripping too much sweat. This is first time this reporter has heard anything like this as an excuse to take a break. Although, if he was perfectly honest with himself, he would realize that he's never competed in a match of high enough quality where the players actually 'sweat'.
What a great opportunity for a joke about Nathan "Big Pond" Lake's name.
"This impromptu break brought to you by sweat. The thing you do when you exercise, or walk up a flight of stairs, or simply eat food, depending on your normal level of activity."
Makin makes his equipment change. He's into his backup shoes, and the game continues.
The next point ends in a let. The following point ends contentiously with the refs calling one of Richards balls down. Richards and Makin battle the next rally that ends with Makin diving for a ball, unsuccessfully. One spectator, Mark McLean, is voluntold to mop up the floor. Good on ya, Mark.
A stroke to Richards in the next rally has the crowd booing the refs. Wait, never mind, the crowd had just been informed that the Sleeman Light beer had run out.
The game ends with a wonderful rally that sees all four corners of the court used. Makin makes a wonderful retrieval on a front court shot by diving — and sliding — several feet. Richards jumps (not literally, more steps) on the next ball and hits a dying length shot to the back. Richards goes up 2-1 in games.
The fourth game begins but this reporter missed the start as he had to grab a pint. Apparently the job of Reporter no longer has the perk of free beer delivery.
A dive by Richards forces Mark McLean to run back on the court and wipe the floors. He appears winded on return. Neither player seems sympathetic.
A wonderful rally has Makin and Richards battling for position on the court. It ends with Richards pulling out a deceptive straight length from the front court and Makin, appearing to move slowly on the ball, missing his chance. Richards goes up 6-3.
At 7-3 Richards, Makin hits a drop shot that Richards dives for. Apparently out of the rally, Makin hits a cross court to back left, but Richards — clearly working on his burpeees — bounds off the floor and retrieves the ball. The rally continues with Makin eventually winning, but definitely having paid for the point as much as Richards in terms of energy.
At 7-5 up, Richards is determined not to allow a single ball past him. He makes some tremendous volleys until Makin leaves one too lose, allowing Richard to close out the point. The next point is a quick one, with Makin hitting a ball into the tin early. He does the same in the following rally to go down 10-5 match ball.
The crowd, eager to see a fifth game, is cheering Makin on, but it isn't enough as Richards wins the match, and the Nash Cup 11-5.
Certainly one of the finest squash matches this club has seen since this reporter played Pub Games Rob Doherty in the A club championships semi-finals (Stingray won). Unfortunately, no one was around to see the aforementioned match, so you'll simply need to take this reporter's word on it at the caliber of play.
And this concludes another very successful Nash Cup. This reporter is now going to partake in several rounds of Beer Pong, yet another Nash Cup tradition. His beer pong partner, you might ask? Why none other than Hall of Famer, Rob "Pub Games" Doherty.
Fin
Tom: Feels great to win, It's my first win since my injury. Felt great, strong and moving well. Joel is a strong tough competitor who's moving up, young with a great work ethic! It's always going to be tough but fair! It was hard and very hot, but it wasn't really an issue. You lose a lot of fluid. We changed are shoes, and you lose about 7-10lbs in such a match!! No need to diet! This tournament really stabiles my ranking and gives a great start to the year. I came here wanting to win, and would have been disappointed with anything less. First tournament of the season, I wanted 4 real matches and sets me up for the season. Honestly, the club was great. A real squash club, with an amazing atmosphere; everybody here is a squash freak! What a fun place! Monday qualifiers with a packed house is crazy! I hope to be back
Jay Francis: honestly I hope to not see you back (as your ranking will be too high!!!). Good luck at your next event in Holland- my home town!