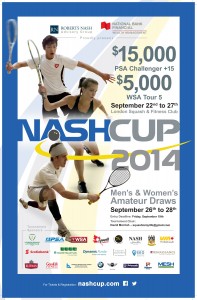 In 2008 the London Squash & Fitness Club (LSFC) made the decision to host a professional squash tournament. A committee of volunteer members came together, and a small number of dedicated sponsors committed a modest purse to "test the waters". The response was tremendous.
Over the past seven years the NASH Cup has increased its PSA purse from $3,500 to $15,000, added a $5,000 WSA draw, and gained a global reputation as a premier stop for rising PSA & WSA stars. 2013 drew 13 PSA and 7 WSA top 100 professional players; the amateur draw had 140 participants with players from across Ontario and Michigan; Top seating for the professional draw has sold out each year over 3 months in advance.
Our region is blessed with one of the strongest university squash programs in the country. The UWO men's squash team has been top of the Canadian rankings for 31 straight years (under the leadership of coaches Jack Fairs and Dave Morrish), and competes in the NCAA (currently ranked 9th). The UWO women's squash team has won the OUA's more than any other team. The NASH Cup aims to support these programs through tournament participation and fundraising efforts during the tournament.
The NASH Cup is a world class event and in 2014 our goal is to increase exposure rby eaching outside the squash community. We are on the verge of increasing the WSA purse to $10,000 and are seeking additional sponsors to help this event grow year after year. Please join us as a sponsor and welcome the world's best squash players back to London in September 2014.
Jay Nash
-Tournament Host