SILENT AUCTION ITEMS NEEDED

Please show your support for Junior and UWO Squash.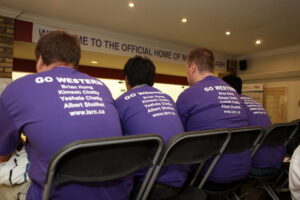 The silent auction has become a major part of the NASH Cup event. In 2016 nearly $6,000 was raised including $1,500 from ScotiaBank resulting in $3,000 going to the Ontario University Squash League (run by the Ontario Jesters) and nearly $2,500 going to developmental squash. On top of this the UWO women's squash program was able to raise over $500 through nightly draws.
The NASH Cup strives to support squash in the London Region and across the province. The goals for the 2017 silent auction are:
Raise $3,000 for the Jesters University League
The OUA currently runs only 1 (one) squash event for the University teams each year. The Ontario Jesters have structured a league to provide more competition and foster growth in the sport. The efforts have been very successfully and the number of universities with men's and women's squash programs is growing.
Up to $1,500 will be matched by our partners at ScotiaBank
Raise $2,500 for UWO Squash Programs
Through silent auction and nightly draws the NASH Cup has been able to provide funds directly to the UWO Squash programs for the last 5 years. University funding covers less than 35% of the annual budget for these programs. The Men have won Ontario 32 years in a row and complete with the top US programs.
Raise $5,000 for Junior Squash
The future of squash in London depends on our rising Junior players. London Squash has a history of producing some of Ontario's top juniors…but there is far more that can be done. These funds would be used to expand the current junior programming, and help our Juniors train and compete throughout Canada and the United States.
Donate to the Silent Auction Now
2017 SILENT AUCTION ITEMS
One Night Stay at Station Park All Suite Hotels
Enjoy a one-night stay at Station Park All Suite Hotels.

Starting Bid: $100 Value: $225
Oxford Learning Assessment
Assessment plus 5 hours of classes

Starting Bid: $200 Value: $475
VIA Rail Canada
Single Use Ticket

Starting Bid: $200 Value: $500
3-Day Cottage Get-Away
Enjoy a 3 night stay at this beautiful log house that was originally built in 1842 near Bayfield and was dismantled and moved to current site in 1984. Very rustic log cottage with all modern amenities, modern addition added in 2005 with open kitchen, bedroom and bathroom. Two bedrooms upstairs with master bedroom overlooking pond and field stone fireplace. A private staircase takes you down to a 300' deep sandy beach. Looking for a fall get away – this log home is your ticket to paradise just a short drive Goderich.

"The cottage is less than ten minutes to Goderich where we shopped, dined and explored. The whole weekend was so private, and restful. We loved preparing our meals in a modern kitchen that was fully equipped. We felt all so at home." – Sandi & Jim McCabe.

Generously donated by Ken Crich
Starting Bid: $450 Value: $1000
Of Courts
Wilson Burn Team Tennis Racket & Free Stringing of Choice

Starting Bid: $80 Value: $160
BMW London
Spa Treatment

Starting Bid: $90 Value: $175
TBA
More Items Coming Soon

Starting Bid:$TBA Value: $TBA