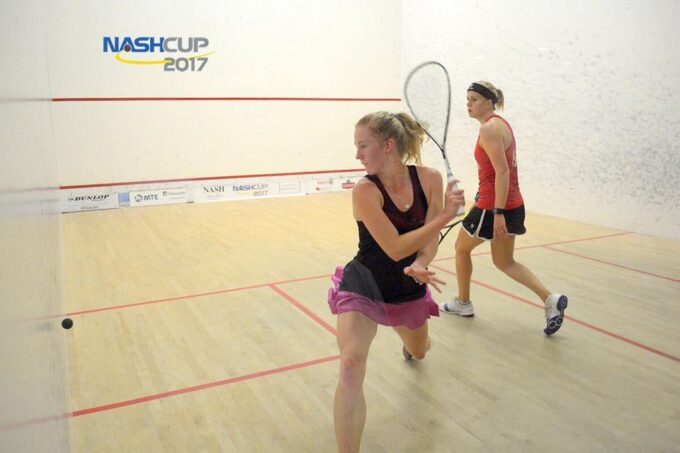 2017 NASH Cup – Day 5 Pre-Game
Day 5 – Semi Finals – Pre-Game
The top seeds on each side of the draw have advanced to the semi-finals and will face off tonight against hungry opponents eager to extend their run into tomorrow's final. The action at London Squash starts at 5:30pm with games scheduled to start each hour. Parking in downtown London will be at a premium as the London Knights will also start their hockey season tonight, and we have 90+ amateurs arriving for the other 9 draws in the NASH Cup. If you're bringing a car it is recommended that you arrive early.
It's "Hug a Committee Member Day". The NASH Cup is a volunteer based, non-profit event. The volunteer committee starts work nearly a year in advance, and puts in a massive number of hours the week of the tournament. Kim Atkinson; Grant Beamish; Rob Doherty; Laurie Doherty; Jay Francis; Lorie Forwell; Craig Hall; Mark McLean; Ashwani Narwani; Jordan Nash; tom Panabaker; Jeremiah Rusznyak; Laura Savage; Phill Stables; and Trevor Tyson. Be sure to thank them when you see them. We also have volunteers who jump in this week and seem to live at the club making sure that the event delivers on all of the finer details. Thank you to Will Jenkins; Adelaide Nash; Elliott Nash; Diane Nash; Julia Nash; Karen Panabaker; Sujai Shah; Murray Shaw; and Jayden Shortt for helping us get it all done.
The Chatham Exhibition matches were a huge success. A big thank you to Squash Ontario for their support on this one. While we don't have the results of the women's match yet, it has been reported that Canada's Shawn Delierre made a thrilling comeback in game 4 against England's Charles Sharpes achieving a 12-10 win and going on to take the match 3-2. The crowd at Maple City Squash Club got a great show. A picture of the pros with club owner Dan Van Moorsel is below.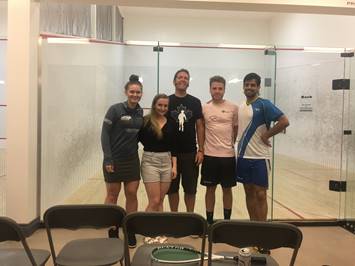 Finally, thank you to Mike Stubbs and AM980 for the press coverage. Here is a link to the article and video published last night.
Nash Cup heating up the squash world in London
Now….about tonight's matches. Many players come to the NASH Cup as the first event of their season. The prize money is a draw, but there are also ranking points involved with how the players finish. Those who lose tonight will receive $1,130.50 USD each and 105 points for their rank. A player who averages this number of points (total points divided by the tournaments) would be ranked 59th in the world for men and 41st in the world for women. If you look at the rank of players who will be on court tonight you will see that only one would see their global position positively impacted by a loss. Expect some very intense play.
Friday's Matches – All matches are played on court 2 tonight
5:30pm Millie Tomlinson [1] (ENG;22) vs. Nikki Todd (CAN;62) – They have faced off once before in 2014 with Millie winning the match
6:30pm Tom Richards [1] (ENG;39) vs. Nathan Lake [5] (ENG; 52) – No PSA History
7:30pm Amanda Landers-Murphy (NZL;44) vs. Fiona Moverley [2] (ENG; 24) – No PSA History
8:30pm Youssef Soliman [3] (EGY; 48) vs. Joel Makin [2] (WAL; 47) – Faced off in 2016 with Joel winning 3-2
Reminder – There will be amateur matches from D level through Open running at London Squash and GoodLife Fitness Citi Plaza starting today at 4pm. Over 90 players! Be sure to check out some of the action. All competition (professional and amateur) will finish tomorrow evening.
Below are some photos from last night's action. Thank you Rael Wienburg for all of your work this week!