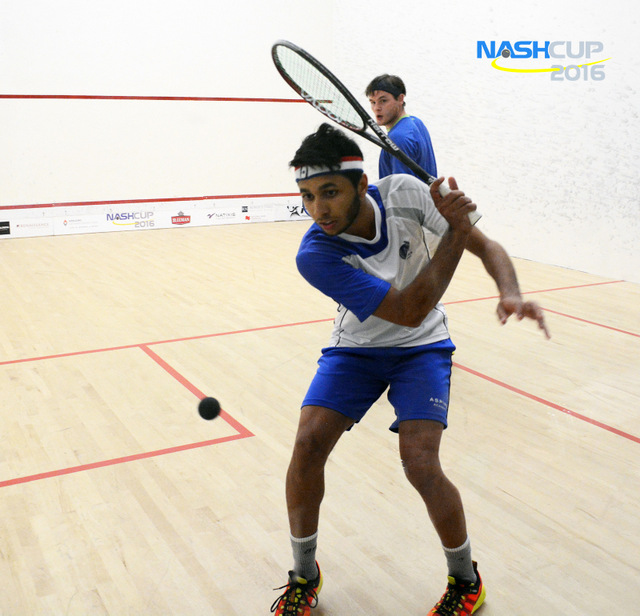 NASH Cup 2016 – Day 3 Recap
It was a tremendous night. The 12 matches played included some big upsets, and the crowd was all over it. Two qualifiers into the final eight of the men's draw, and the second seed out of the women's. The event started with 4 past champions…and now there is only one left.
Full results are listed below followed by a written summary of each game. Thanks to Rael Wienberg for the great photos.
We will fire it back up at 5 pm tomorrow night.
Diego Elias [1] (PER;34) vs. Michael McCue (CAN;110)
(11-9; 11-7; 9-11; 11-6) 45mins
Cameron Seth (WC; CAN; 348) vs. Andrew Schnell [7] (CAN; 62)
(11-8; 3-11; 8-11; 5-11) 37mins
Henrik Mustonen [6] (FIN; 60) vs. Ashley Davies (ENG; 129)
(11-5;11-7,6-11,9-11,14-12) 54mins
Olli Tuominen [4] (FIN; 47) vs. Anthony Graham (ENG;159)
(11-5;11-5;14-12) 43mins
Abdulla Mohd Al Tamimi [3] (QAT; 46) vs. Douglas Kempsell (SCO;114)
(9-11;11-7;7-11;9-11) 57mins
Christine Nunn [1] (AUS; 37) vs. Nikki Todd [5] (CAN; 55)
(11-7,11-7,7-11,11-3) 36mins
Shawn Delierre (CAN; 70) vs. Ben Coleman [5] (ENG; 53)
(8-11;6-11;6-11) 60mins
Maria Toorpakai Wazir (PAK; 61) vs. Misaki Kobayashi [3] (JAP; 48)
(8-11;5-11;7-11) 24mins
Jens Schoor [8] (GER; 63) vs. Jan Van Den Herrewegen (BEL; 100)
(11-8;3-11;4-11;9-11) 53mins
Samantha Cornett [4] (CAN; 48) vs. Alison Thomson [8] (ENG; 82)
(11-3,11-3,11-9) 27mins
Jaymie Haycocks (ENG; 88) vs. Declan James [2] (ENG; 39)
(12-10;5-11;9-11;7-11) 56mins
Danielle Letourneau [7] (CAN; 67) vs. Hollie Naughton [2] (CAN; 45)
(11-8,11-8,16-14) 34mins
Men's 1st Round and Women's Quarter Finals
4pm Diego Elias vs Michael McCue (11-9; 11-7; 9-11; 11-6) 45mins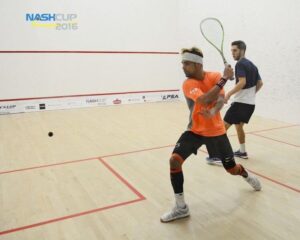 The opening rallies were relaxed. Long hits down the wall as each player conserved strength and looked for an opportunity to attack. Diego jumped to an early lead, but was by no means controlling the pace of play. Each rally seemed to get stronger as the players felt each other out. This is their first meeting in PSA competition. The mix of power and touch became more extreme as the first game moved on. These two are exceptionally well matches and Diego's 11-9 win came down to a brilliant drop shot that was just a little too far for Mike to reach.
A strong start for Mike in the second as a no let call brings him to a 3-1 lead. Both players are getting aggressive and points are clearly being won, not lost. Fun to watch. There's almost nothing these guys can't get to. Reaction time is everything and Mike jumps to a 6-3 lead. The number of calls to the ref increase as Diego regains control and jumps up 9-6. Diego takes it 11-7.
Mike is playing really well, but Diego seems to get to everything. Mike should have a lead, but trails 6-5 mid way. Like boxers swapping blows the score progresses 6-6; 7-6; 7-7; 8-7…long rallies; no errors. 8-8; 8-9; 9-9; 10-9…and a stoke! Mike takes it 11-9.
Now it's on. Mike comes in with a fresh shirt and things go 1-1 out of the gate. Diego seems to calm down his game looking to take Mike short this time rather than deal with another round of marathon rallies. He seems to read Mike's position well and jumps to a 6-1 lead with a series of length shots followed by boasts. Diego gets up 8-3 when a rare tin, followed by a beautiful overhead cross court drop gives Mike some hope. 9-6. A nick in the back puts Diego back in control. The final rally is a series of unbelievable gets by Diego and a hard cross court to end it.
Diego: was good to play on the court; I was very relaxed and enjoying myself, feeling good. Maybe a bit too relaxed! I still have to find the balance between full concentration and keeping relaxed enough for my game to flow, but I'm still only 19!
4pm Cameron Seth vs Andrew Schnell (8-11; 11-3; 11-8; 11-5)37mins
This match had the ability to be lopsided given the difference in ranking but Cameron held in on the early pace gaining a 9-5 lead in the first match. This is Andrew's first tournament of the season and it's taking a bit to find his stride. Andrew's shots kept getting tighter but an errant bounce from the back wall cost him a crucial point resulting in an 11-8 win for Cameron.
Andrew has the amazing ability to make squash look relaxing. His movements are fluid and he started this game looking for Cameron to make mistakes. The approach is working as Andrew jumps to a 6-1 lead. 11-3 to Schnell but Cameron is playing the best squash we've ever seen from him. Exactly what you want to see from a wild card entry.
Cameron shifts to length in the third game which seems like it should play into Andrew's game. He picks up an early 2-1 lead. A flat nick on the back wall evens things up and Andrew begins to march forward. It takes a few rallies for Cameron to shake it off and he ties it back up at 5-5. Tight to the end. Andrew wins with a boast form the back court that catches Cameron flat footed.
Cameron remains on length into the fourth game and Andrew does the same…until he doesn't, jumping to a 3-0 lead on opportune drop shots. Cameron takes the winners where he can get them working to stay in it, but Andrew is playing the fitness card. Long rallies, though not particularly tight shots from either side. Errors cost big and Andrew moves to a 9-4 lead. Another nick and it ends 11-5.
Andrew :Hard 3-1. Unfortunately I tweaked my hamstring/glute on the very 1st point of the match. I managed to get through this match pretty much on 1 leg, but that will not be possible against Diego. I'll have to see how it reacts, really hope I will be ok to play.
5pm Henrik Mustonen vs Ashley Davies 11-5,11-7,6-11,9-11,14-12(54mins)
Henrik Mustonen the #6 seed started the first game with a jump in his step as the qualifier Davies looked a tad sluggish, perhaps feeling the effects of his two previous rounds of qualifying.  Mustonen who spent a stint training in Toronto last winter has an unorthodox style that mixed with incredible athleticism is tough for opponents to find their rhythm against.  He volleyed with purpose early on and mixed in several tricky working boasts to stretch the court vs Davies who did the majority of the work as Henrik took an 11-5 first game.
Second game and Davies has found his rhythm and shaken off the qualifying cobwebs with a positive start with much crisper length that starts to move Henrik off the T and gives him some better court position.  However, Mustonen remains physically strong and continues to dig back everything that Davies can throw at him, bringing the score.  At 6-6, Davies works a long rally and gets a winning positing, only to clip the top of the tin and finds, as so often is the case at this level, only a few millimetres can mean the difference between winning a game and losing it.  Mustonen breathes a sigh of relief and capitalizes with a few strong rallies, forcing two more Davies errors before taking the game on a perfect backhand volley drop 11-6
Game three saw our ferocious Finn take a bit of a mental breather with several uncharacteristic errors to give Davies a quick lead which he didn't look back from and had the crowd, including Elliot Selby perched in the front row wondering if a classic 2-0 trap had been laid by the Englishman.
As court 2 was winding down, the drama was reaching an apex on court 1, with indeed an upset starting to brew.  Mustonen goes up quickly and confidently 9-2 looking poised for the straightforward 3-1 victory.  However, Davies starts to rise from the ashes and slowly but surely starts to chip away with a couple of quick errors from Henrik and some outstanding straight kill forehand winners from the Englishmen.  The crowd starts to whisper and heads begin to turn to court 1, where at 8-9 down, Davies wins a mammoth rally with a first pump to complete the comeback and we now officially have a barn burner!!!
Game 5 now has the entire crowd watching with Elliot holding court as the resident match expert.  Henrik, whom one would think would be completely deflated after letting certain victory slip away, seems like he is just starting the first game, looking energized and unfocused.  He jumps out to a 2 point lead which the scrappy Davies contains but cannot overcome all the way to 9-7 up for the Finn.  The pair trade backhands mid court trying to gain any slight advantage available but neither will break physically or mentally. Davis claws back to 10-9 when another mammoth rally goes to the Englishman with a straight kill to force the tiebreak once again.  Match of the tournament! Mustonen goes to 11-10 with a forehand drop winner and Davies comes right back with a backhand cross court return of serve that rolls out of the nick bringing the crowd to its feet.  11-11 and another huge rally which sees Davies in control only to go for a Nick again that pops out giving Mustonen an unfortunate stroke.  That would appear to be the way fate would play out, as Henrik wins the next rally on a ball popping ever so slightly off the wall to give Henrik the thrilling 3-2 victory giving the NASH Cup crowd every dollar they bargained for.
Henrik: at 2-0 I was in control. Start of the 3rd I hit 3 dropshot tins and got real tentative to play short. This let him back into it and he took full advantage. I was very lucky to sneak through in the 5th. Happy to play Olli tomorrow. He's the favourite no matter what he says!
5pm Anthony Graham vs Olli Tuominen 11-5,11-5,14-12(43mins)
A thrill to have former top 20 in the world Olli Tuominen from Finland grace the LSRC courts as one of the most consistent and classiest performers on the tour in the last 15 years takes on the English player Anthony GRaham.  GRaham is physically imposing and looks like the kind of athlete that could excel at any sport and will certainly be looking to bring the pace to the veteran Tuominen in the first game.
The opening frame was as expected with long physical rallies going back and forth from the Fin and Brit, each feeling the court out and finding their length.  At 6-5, the first unforced error of the match came from Graham's racquet bringing Olli up 7-5 and sensing an opportunity for momentum slightly upped the tempo, starting to volley and take the ball in short with more determination, pulling away with an 11-5 game 1 win.
Second game sees Graham come up relaxed and with a new game plan, starting to take Ollie short earlier to see if he can break up the veteran's Medtronic rhythm. A sensational cross court drop from the back by Graham has the crowd on it's feet and both players smiling as Anthony continues to play loose and fast with his shots to take an early lead.  However, as we see so often in PSA, there is no antidote for experience and Tuominen steadies the ship by gluing the ball to the side walls and playing sound positional squash.  This changes the dynamic of the game and Graham's winners turn to errors, giving the Finn and entertaining Game 2 victory.
Game 3 starts out as the first did, with both players playing with a more discipline, conservatively trading lengths.  As we reached the 35 minute mark of the match, it was evident both were starting to feel the lactic acid build up as each searched for the next gear.  A few decisions from the referee that went in favour of Tuomenen handed him a 1 point cushion that he carried until 10-9 match ball.  However, at that point London Squash legend PAULA Jenkins (who narrowly missed qualifying for the event at the amazing age of 47) who is Anthony's bullet stood up in her front row chair to spur the Englishman on.   Message received as Graham played a beautiful rally with a cross court flick and straight drive to finish to bring us to the tiebreak.  But again, the steely experience of Olli proved undeterred and he was able to hold off the hard charging Graham 13-11 to become our first men's quarterfinalist, advancing with a hard fought 3-0 win.
Ollie: Happy with the first 2 games, lost my focus a bit in the 3rd. But happy with 3-0. Liked the court, it's very fair and true. Feel physically fine for my age, and looking forward to a Finnish battle with Henrik tomorrow! Well he's the Finnish number 1, even though I have the higher PSA ranking, so he's the favourite(sound familiar??). We get on well and it'll be a clean fun match.
6pm Abdulla Al Tamini vs Douglas Kempsell
Douglas Kempsell wins 11-9,7-11,11-7,11-9(57mins)
Game 1
Both players bringing the pace in the first game. Al Tamimi taking the ball early and both players not wasting any time in opening up the court. Though Al Tamimi is the higher ranked player, Kempsell is up 1-0 in head-to-heads. Kempsell showing some seriously athletic movement at the ladder end of the first game, and it pays off as he takes the first game 11-9.
Game 2
A very entertaining start to the second game, with a cross court roller from Al Tamimi. Kempsell fires back with a straight cross kill. Both players going for their shots in this game. A fast paced game, but Al Tamimi comes out on top, winning the second game 11-7.
Game 3
Tamimi wasting no time in taking the ball in short, while Kempsell continues to show strong movement around the court. However, Kempsell has two matches behind him, while Tamimi is coming in fresh. Kempsell takes a 5-3 lead in the third game, withstanding Tamimi's devastating short game. Exceptional retrieving and some solid squash of his own gives Kempsall the third game 11-7.
Game 4
No lapse in pace here in the fourth game. Tamimi continues to put Kempsell under pressure at the front of the court and takes a 4-2 lead to start the game. With both players retrieving exceptionally well and taking the ball in short often, the crowd is in for an entertaining battle. An error by Kempsell brings the score to 7-4 Tamimi. Kempsell fights back to get to 9-9. Two backhand errors by Tamimi gives Kempsell the final game 11-9. Overall, a fast-paced match with great retrieving by both players, but Kempsell was the more solid of the two today and he takes the match 3-1.
Douglas: Best win EVER!! He's top 50, wow. I'm so happy, amazing atmosphere. I played tactically great. I frustrated him and picked my moments to attack. We are looked after so well here it's incredible. Look forward to playing Ben tomorrow who I've never beaten either!!
6pm Christine Nunn vs Nikki Todd
Nunn wins 11-7,11-7,7-11,11-3(36mins)
Game 1
Both girls looking fast and fit in the first game. Nunn takes a lead in the first, going up 5-2. Todd fights back to 6-7 with some great counter drops at the front. Nunn plays solid squash to get to 10-7, eventually taking the game 11-7 on a stroke call at the front of the court.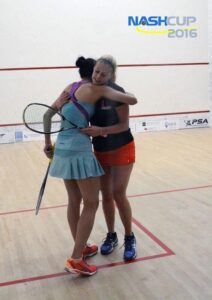 Game 2
In the second game, the rallies are going fairly back and forth, with the score staying fairly tight. Todd hits a few boast winners to bring the score to 7-8 in the second game. However, Nunn continues to put on the pressure at the front of the court and Todd hits a  backhand volley drop into the tin to bring the score to 10-7. A backhand drive from the front of the court seals the game at 11-7 to Nunn.
Game 3
Todd's two-wall boast has been solid this match, and she uses it to take a lead in this third game, going up 5-3. Both girls moving well to the front of the court, but Todd seems to be taking control of this game. At 9-3, Todd hits a volley drop winner to take a 10-3 lead, followed by a backhand volley for perfect length to clinch the game 11-3.
Game 4
Nunn taking control of the fourth game, playing very business-like. She hits a volley drop into the nick to take a 6-1 lead in this game. An error by each player brings the score to 7-2 Nunn. Two unforced errors by Todd give Nunn a 10-2 lead, and the chance at several match balls. She takes the match on a stroke on the backhand side to win 11-3 in the fourth. Overall, a clinical performance by Nunn and a few too many errors by Todd sends the number one seed into the semi-finals on Friday.
7pm Shawn Delierre vs Ben Coleman
Ben wins 11-8,11-6,11-6(60mins)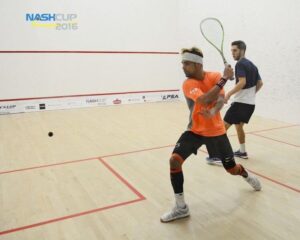 Crowd favourite and Canadian legend Shawn Delierre suits up wearing his trademark flamboyant kit, in a match-up against the up and coming Englishman Ben Coleman.  The crowd at the Nash Cup have settled into what will no doubt be a loooooong match if history has anything to say about it.
Game 1
Our reporter wanders over to court 1 mid first game looking for some insight from the locked in crowd. He stumbles on Canadian #1 Andrew Schnell who brilliantly comments that "Shawn is playing well" while Squash Canada Executive Director Dan Wolfenden adds "he is wearing a bright shirt".  So left to his own analysis', game 1 is as you would expect with long rallies featuring Delierre creating chaos and Coleman trying to prevent it.
After some long opening rallies with both players feeling the court and each other out, Coleman starts to up his pace and accuracy.  Shawn does not look too bothered and absorbs everything thrown at him but the Englishman makes some deposits in the middle of the 1st game that he hopes to withdraw at a later point.  With a two point cushion at 8-6 for Big Ben, some dancing in the middle of the court takes place with Shawn leading Coleman through the "let limbo" routine.  Coleman does not let the interference affect him and continues to play sharp and disciplined with some added sting to his volleys.  A no-let to an aggrieved Delierre and Coleman takes the game 11-9 in 18 hard fought minutes.
Game 2
The match starts to settle into the rhythm of a quality PSA affair with two top 50 players displaying their full arsenals of shot-making, movement and tactics.  Coleman in particular impresses with his accuracy and decision making and is able to close down all of Shawn's spirited attempts to control the tempo.  Never to be counted out, Delierre wins a few quick rallies with 2 outrageous winners out of nowhere and a decision that goes his way gets him back to 8-9 but a clipped tin and inch perfect back-hand drop by Ben Coleman put the Englishman back on top.
Game 3
After some inspiration from Andrew Schnell and fellow Québécois Davide Ballageron in between games, Shawn returns 0-2 with some different tactics, trying to break Coleman's pedantic rhythm.  With some wide cross courts, kills from the back and even the occasional war-cry in between points, he tests the Englishman's resolve. Delierre would make some inroads and plays some beautiful points but today's performance by Ben Coleman would championship worthy and he advances to the semifinals of the NASH CUP with an impressive 3-0 victory.
Ben: I played so focused, I didn't get frustrated which can happen against Shawn. So pleased to win in 3 and be fresh for tomorrow!
7pm Maria Toorpakai Wazir vs Misaki Kobayashi
Misaki wins 11-8,11-5,11-7(24mins)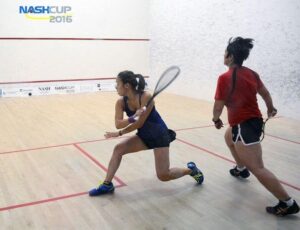 Two former training partners took the court in a contrast of styles in our 2nd women's quarterfinal.  Misaki Kobayashi and Maria Toorpakai WAZIR both have based out of Toronto on the past and would know each other's games very well.  Misaki is smooth and rhythmic with both her technique and movement while Maria is one of the best pure ball strikers in the women's game and an intense competitor from the warm-up onwards.
Game 1
Maria starts with powerful drives and kills, looking disinterested in long rallies but nonetheless taking an early lead.  Misaki weathers the early storm with some great retrieving and her trademark working boast which Maria struggles to read.  The play continues to be edgy with quick, aggressive rallies with Misaki maintaining a slight lead throughout.  A couple of decisions at 8-6 Kobayashi seem to frustrate Toor Pakai, letting the cool and collected Japanese player coast to an 11-8 game 1 victory.
Game 2
A masterclass by the greatest Japanese player of all time shows why she is our #3 seed at the NASH Cup.  Some beautiful return of serve winners by ToorPakai is all she can muster as Kobayashi plays error free squash with some divine boasts sprinkled in and more great retrieving.  11-3 Kobayashi.
Game 3
Maria comes out in game 3 with some renewed energy and a better game plan.  Using her ball striking to establish a little bit of length before taking it in short helps to make the court seems bigger which negates the retrieving of Kobayashi.  Some of the best points of the match take us to 5-4 Maria, before she hits a wall and reverts back to the quick fire tactics which Misaki has clearly come prepared for.  Maria fights hard to the end, but Misaki pulls away to book a date with #1 seed Christine Nunn in Friday's quarterfinals.
Misaki: happy with 3-0, always tough against a Maria style opponent. Looking forward to a day off tomorrow (which is amazing in a 10k event). I've never played Christine! Crowd is amazing here, it's so busy!
8pm Jens Schoor vs Jan VD Herrewegen
Jan vd Herrewegen wins 8-11,11-3,11-4,11-9(53mins)
Game 1
Both players started fast and furious.  Right away all 4 corners of the court were being used.  The game was back and forth until the mid point where Schoor started dictating the play.  Van Der Herrewegen put in a massive effort to stay in rallies and kept getting everything back.  Schoor got up to 8-5 when Jan made a final push in the game.  A few tins from Schoor had Jan keeping the game close but the German Schoor just had too much fire power in this game for Jan.  Schoor wins game 1.
Game 2
The second game started with Schoor dictating more of the play.  His mid court boasts were having success and Jan kept leaving his length short.  JVDH started playing some better quality defensive shots and used a change in pace to get some attacking opportunities.  His back hand drops were finding the Nick and he took control of the rest of the second game.  Jan dominated and took the game 11-3 convincingly.Game 3.  JVDH continued to dominate the the 3rd with great attacking shots. Schoor was still dictating most of the points but as soon as JVDH got an opening he took full advantage racing out to a 6-1 lead.
Jan continues racing from corner to corner making inhuman pick ups and finishing his shots with skill in the front corners.  Schoor made a valiant attempt at getting into the game at 9-2 going on a streak for 3 points but an ill timed tin in the front right game Jan a game ball.  Jan finished the game off with a perfectly placing a tight drop in the front right to win the game.  Jan 2 games to 1 up.
Game 4
Both players come out moving a bit more slowly than previous game.  Schoor takes an early 3-0 lead with some sloppy play from JVDH.  Some mid game let calls slow the tempo of the game down.  Schoor starts losing some focus in rallies and going for shots that aren't quite on.  Tins are the result and he allows JVDH to pull even at 5-5.  Both players settled down and found a rhythm with a lot of straight length.  JVDH continues to keep picking up shot after shot and being rewarded with winning lengths.  He has had 2 key strokes in his favor late in the game to go up 9-7.  Another late stage stroke called in JVDH favour gives him a match ball.  Schoor plays the shot of the night at match ball down with an incredible back hand drop rolling into the nick.  A brutally long rally from both players, some great pick ups and JVDH ends the match on a remarkable pick up which hits off his frame as he is fully outstretched and flys cross court into the sidewall nick for a roll out winner to win the match in huge upset.  3 -1 JVDH
Jan vd H: "so happy, best result in ages, since my injury! Felt good, a bit edgy in the 4th but played great. Great coaching JayJ! Physically could have easily played the 5th, but happy to be done in 4!"
8pm Samantha Cornett vs Alison Thomson
Sam wins 11-3,11-3,11-9(27mins)
A near capacity crowd at the LSRC are keeping the bartenders busy as tournament chair Jay Nash announces one of our feature matches of the evening, featuring Canadian #1 Samantha Cornett and England's Alison Thomson.
Game 1
With Cornett off a long season long injury lay-off, the crowd did not know what to expect from the loveable Canadian and the virtually unknown Thomson.  Sam, the heavy favourite on paper came out in the first game looking every bit the 3 time national champion and top 25 WSA player with her trademark heavy pace and relentless volleying. Thomson seems slightly overwhelmed by the opportunity of playing at prime time against a top player and makes 4 critical tins in this game, giving Cornett a stress free first game.
Game 2
Englishwoman tightens up her game and the rallies become longer and probing with Cornett still the hunter but Thomson starting to make some inroads with quality straight length and some well timed counter drops.  Sam, perhaps with some confidence from the first game continues to play at a high level seems to enjoy the higher pace and pressure, pulling through in a highly contested second game.
Game 3
Thomson now has nothing to lose and comes out guns a blazing in the 3rd game, catching a complacent Cornett by surprise with some perfect drives and complimentary drops that look to get her back into the match.  However, summoning her years of top 25 experience, Cornett does not panic and starts to claw back the game with flawless squash bringing her all the way to 9-9.  At this point the tide had now firmly turned and Sam could sense the comeback was almost complete – a perfect backhand drop and savage forehand volley drive give her the 3-0 quarterfinal victory.
9pm Jaymie Haycocks vs Declan James
Declan wins 10-12,11-5,11-9,11-7(56mins)
Back to court 1 and we're 7 minutes into the first game. Long rallies taking place with some impressive patience from both Englishmen. Jaymie is off to a strong start with a 7-2 lead. If I didn't know better I'd suggest Jaymie plays some North American doubles….his cross court boast is impressive. Declan was the 2015 NASH Cup Champion and has no intention of being dismissed in the opening round. He closes the match to 8-7. Rallies continue up and down the wall. This is the only match left for the night and the crowd is all watching. Jaymie isn't a small guy, but Declan tends to dwarf any opponent. He's almost apologetic when he has to call let because he can't get around them. 9-9 and Jaymie knows he needs this. Goes for a tight drop and catches tin in the left corner.90% of the rally goes up and down the left wall before Declan hits a corner and Jaymie buries him to the right side. 10-10. A number of lets are called as the players test each wall for weaknesses. After a long rally Jaymie hits a stunning shot into the right corner and ends the first 12-10.
This has been a night full of upsets and Jaymie figures it's now his turn. Declan calmly jumps to a 5-1 lead in the second. This loss hasn't phased him. A 6-2 Declan hits the ground and asks for a let, but it doesn't look like there is any contact and the ref calls it right. Declan is covering a LOT of court. Jaymie is making him work for every shot. 6-4. Declan is shooting to regain himself. Misses one; hits one; and he starts to take control. 9-5. A miss and a stoke by Jaymie and we are tied at 1.
The third game is tight, and a little scrappier. This is saying a lot because Declan is one of the cleanest players we've seen and Jaymie is every bit the gentlemen on court. 7-7. We are at that point where the rallies are long and both players are looking for opportunity. 9-8 Jaymie. A red line hit that could have been a winner shifts things to 10-9 Declan and a great winner in the left corner clinches it. Declan needs this win. Anything less than a finals finish doesn't help his ranking. A lot to ask in a field like this.
The fourth is a battle, but Declan's approach is still working and he's sticking to it. 5-3 in the early going. Declan is taking winners at every opportunity. 7-4. Drop shots are working. He's moving Jaymie around. Forcing Jaymie to reach….and he is. A number of lets and we're 9-6. Declan is down to one and he's trying to take his time. One mistake from Jaymie will do it…and he gets it. 11-7 is the final.
Declan: wasn't my best squash, but pleased to win. Hope to be better tomorrow against Jan. He's tough if he plays well! I had a great summer of training so hoping that starts to come out the rest of the tournament! Great to be back at London squash club, same billets Steve and Nancy who are great, so hopefully I'll play well.
9pm Danielle Letourneau vs Hollie Naughton
Danielle wins 11-8;11-8;16-14(34mins)
The challenge with running two courts and one computer is that you can't always see all of the action….we join the match between Hollie and Danielle in the third with Hollie down 2 after some very tough competition. Danielle has been solid and controlled the court, but Hollie jumps out to a 3-0 lead in this one. The two have faced more times than they can count and won't even hazard a guess at the lifetime record. Rallies are all over the place. Long, short, drop, lob, and it's 3-3. Danielle is making winners, anticipating shots, positioning well, and getting the better of Hollie. 5-3. Errors are the difference and Hollie is having more of them. 7-4….7-6…and Hollie has found her shot. 7-7; 7-8; 8-8; 8-9. If Hollie can finish this it all changes. Momentum becomes her friend. 9-10 and a series of lets. 10-10. The strength of the Canadian players is showing. Tough to pick where this should go. 12-12. A great drop shot from Hollie; a cross court from Danielle that nobody saw coming; a reaching drop from Danielle….14 ALL…Another stunning drop followed by second after a monster rally. This match is in the books. An upset for Danielle!
Danielle: "So happy to win 3-0. I really took some advice about not to stop attacking if I made the odd error, so thx JJ. In the last year I've lost numerous times to Hollie and therefore the shriek of joy when I finally won the 3rd – which by the way felt like 2 games. Looking forward to the day off tomorrow and am playing in the pro/am doubles for sure!"
Thursday
Tomorrow, the first NASH Cup Pro-Am Doubles Calcutta tournament will take place featuring 10 professionals partnered with 10 members…many of the pros have never played North American doubles and the results of this event could be VERY interesting. Those wishing to witness the event should be at London Squash from noon to 4pm
The women get a day off. Both sets of Semi-Finals will be played Friday (2&3pm for the women; 7&8:30pm for the men)
Matches
5pm Diego Elias [1] (PER;34) vs. Andrew Schnell [7] (CAN; 62)
6:15pm Henrik Mustonen [6] (FIN; 60) vs. Olli Tuominen [4] (FIN; 47)
7:30pm Douglas Kempsell [Q[ (SCO;114) vs. Ben Coleman [5] (ENG; 53)
8:45pm Jan Van Den Herrewegen  [Q] (BEL; 100) vs. Declan James [2] (ENG; 39)