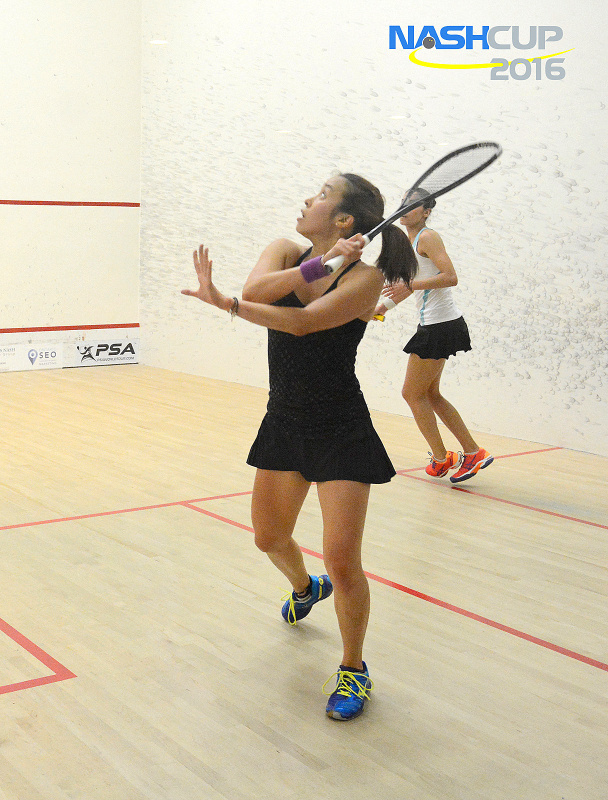 NASH Cup 2016 – Day 5 Recap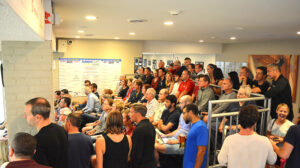 What a wild day of squash. It all started with over 25 juniors spending over 2 hours on the courts with a committed group of pros…many of whom had never been on a squash court before. It was wonderful to watch. Fan's got out of work early to take in some amazing women's semi-finals at 2&3pm; 75 Amateurs started competing at 4pm; and the men's semi-finals finished the evening before an energetic crowd. One day to go….
Christine Nunn vs Misaki Kobayashi Misaki wins (6-11;11-7;11-4;11-3) 32min
Sam Cornett vs Danielle Letourneau Danielle wins (8-11;11-8;11-4;13-11) 41min
Diego Elias vs Olli Tuominen Diego wins (11-8;11-5;6-11;11-7) 54mins
Declan James vs Ben Coleman Declan wins (11-7;11-8;11-2) 56mins
Women's Semi-Finals
2pm Christine Nunn vs Misaki Kobayashi
Misaki wins6-11,11-7,11-4,11-3(32mins)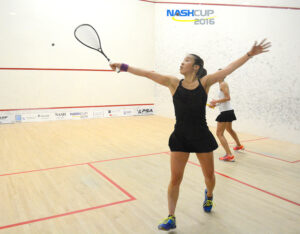 Game 1 won by Nunn with some wonderful drop shots by both towards the end of the game. Also, highlighted by some consistent left wall play throughout.
Game 2 – Kobayashi dominated early 3-2 to 6-3 with some great touch and some beautiful nicks. A great drop shot lob combination brought her to 8-3. Nunn came back with her 4 and 5th point faking short and going cross court long. She slowly worked her way back to 6-8 with some inspired play. From there Kobayashi use some great power to get to 10-7 and then won the game with a soft touch winner to the left side. 11-7
Game 3 – the first few points started with some inspired line play with Kobayashi jumping to an early 3-1 lead another beautiful drop shot on the left side took her to 4-1. 5-1 and Nunn looks like she's fighting the ball a bit. 6-1 with a miss by Nunn on the left wall. 2 lets and then Nunn with a great nick on the right side short. Kobayashi counters with one of her own on the right side 7-2. Great boast and its 8-2. 3-8 Nunn with a cross court deep winner. 2 Stroke for Kobayashi and its 10-3. Phenomenal back hand lob on 2nd game point to the right corner and 11-4 Kobayashi.
Game 4 – left corner nick for Nunn 1-0. Unfortunate tin a short and 2-1 Kobayashi. Long forth point with a hard cross court winner for Kob 3-1. Another stroke against Nunn and tin and it's 5-2 Kob. Out on the back wall 7-2. Two quick points and it's 9-2 – Nunn having trouble and Kobayashi hitting everything nice. Kobayashi hits tin on the first match point and Nunn returns the favour on 2nd match point.
Kobayashi wins 3-1 with a great combination of drop shots and strong line play.
Misaki: "1st game my length wasn't there, who knows maybe because I'm not used to getting a luxury day-off during a tournament. My legs were really heavy and therefore wasn't moving well. 2nd game I intentionally started lifting the ball higher to get her to the back and stop her attacking me so much from the T line. So with her behind me I could start attacking more to the front. Last 3 were comfortable, so not too tired. We've been about the same rankings for a while so it's a good win. Final against Sam or Danielle tomorrow…well I've never played Danielle and Sam is my best friend and looking very good in her comeback. Me and Sam is always tough, and Danielle would be a new opponent for me. I don't mind who I play I'm in the final!!"
3pm Sam Cornett vs Danielle Letourneau
Danielle wins 8-11,11-8,11-4,13-11(41mins)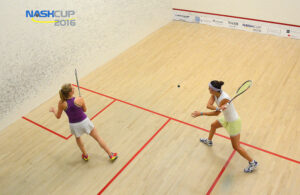 Game 1 – testing each other's meddle on the backhand line for a first ball let. First couple points were long rallies ending 1-1. Missed serve by Letourneau and 2-1 Cornett. Great blocked drop shot to the right side and 3-1 Cornett. Good power by Letourneau but countered by Cornett's finesse. Pressure by L and a missed drop shot by C. Amazing right side drop shot by L 3-5 with L serving. Front wall smash by L and 4-6. Great 3 wall boast by L and C counters with an unreturnable drop shot for 8-5. Amazing 2 wall drop shot by Letourneau for 7-9. Cornett with an amazing left side drop shot of her own to get to Game point. Cornett wins with a mid-court 2 wall boast. 11-8
Game 2 – Trading the first two point with some great length 1-1. Letourneau's ball dies in the back right corner for 2-1. Cornett with a hit back into her for a stroke 4-1. Great length by Cornett stretches Letourneau and sets Cornett up for a cross court finisher 4-4. Long back and forth rally and both look stretched. Cornett finishes her with a hard cross court smash 5-5. Beautiful shot just above the tin by Letourneau for 7-5 Letourneau. 10 shots along the left wall ends with a nick by Letourneau 9-5. 6-9 Letourneau; 7-9 Letourneau as Cornett retains serve. 1st game ball (8-10 Letourneau) and she hits the tin. Beautiful nick drop shot wins it for Letourneau.
Game 3 – Letourneau to serve Trading points and then a point out off the back wall by Cornett and its 2-1 Letourneau. Mid back court boast miss by L and we're all tied up, 2-2. Drop shot by Cornett just misses low for 3-3. Phenomenal play on the left side with an amazing low runner by Letourneau results in an great get by Cornett, Letourneau hits the tin! 6-4 Letourneau. Tin by Cornett and a strong right side line drive 9-4. Short left side drop for game ball. Tin again by Cornett for Game. 11-4. 2-1 Letourneau
Game 4 – Great play and a second point drop shot by Cornett no she's out 2-0 early. They trade points for 3-1. Great short points and unfortunately Cornett hits tin. 3-3. Beautiful cross court exchange and Letourneau kills it backhand line for 5-3. Let at 6-3.. Letourneau lobs left side out for 4-6. A great point rally at length with a back right corner finish for Cornett. 6-5 Letourneau. Letourneau having a bit of trouble finding her range and drops 2 points. 7-6 Cornett. Great mid court boast by Letourneau 7-7. Amazing overhand 2 wall nick by Letourneau 8-7. Pressure by Cornett and it's 8-8! Great 2 wall drop shot into the nick for game point Cornett 10-8. Letourneau avoid 2 game points down the right side then short down the left with Cornett missing 10-10. Letourneau fakes short cross and goes left corner for Match ball. Letourneau misses the boast for 11-11. Quick tin for Cornett and Match ball for Letourneau. Great length into the back right corner for MATCH! 13-11
Letourneau wins 3 games to 1.
Danielle: "2 big wins in 3 days, though didn't get the win in the doubles yesterday. Was a bit tired this morning, so took the morning off and didn't have my normal hit. Played well, after waking up my body. Thought it'd be a tough mental match more than physical. Lost the 1st because I just played at pace which I realised Sam likes. So from then on I tried to vary the pace a lot. We were both a bit edgy at the end of the 4th, she'd made a couple of mistakes so I tried to just keep it in play, it worked I'm in the final and here to win! Loving the Nash Cup and I'll be back for sure, hopefully as a winner!
Sam: "Bit disappointed but to be fair she played amazing! I could have played better, but she was too good today. My last tournament was Pan'Ams last July so 14months on the comeback trail from injury. I need these matches to get back in the flow of things, it'll help me to get back. It's just the little things I need to improve on. So happy with my body, no tweaks or anything. Body is reacting great the next days, and feeling very healthy. I'm so happy to be here, it's so much fun at the Nash Cup. Lost today so I get to play the crazy challenge match tomorrow and have some fun. I'm glad to be back playing!!"
Diego Elias vs Olli Tuominen
Diego wins 11-8,11-5,6-11,11-7(54mins)
Match report Brad (Stingray) Hanebury back by popular demand. My fans will be happy to hear that I did finally get that beer.
The match being with Diego and Olli showcasing their contrasting styles. Ollie playing a fast and aggressive game, Diego — affectionately known in London as The Big Kahuna — appearing to glide effortlessly around the court. Must be those Salming shoes.
9-1 down in the first game has Olli showing his first signs of frustration. He follows it up with a fantastic rally that sees both players displaying their incredible retrieval abilities. Unfortunately, still be 2-9 down, his hopes of coming back in this game are slim. However, he seems content to have made The Big Kahuna work through a heavy rally.
The tail end of the first game has Olli making a remarkable attempt at comeback. Diego, thinking he had the game on a stroke call, shows his first signs of frustration, allowing Ollie to make it to 7-10. Some exhibition squash follows and The Big Kahuna finally manages to close up the game 11-9. Despite winning the game, he must be slightly perturbed (I learned that word today) at having nearly blown a large lead.
The second game starts with both players looking very positive and confident in their movements. A spectator several rows behind this reporter keeps pronouncing Olli's name as "OH LEE" while the person beside him says "AW LEE". Who is correct? This reporter is on the story.
A heated moment early in the second game has The Big Kahuna questioning a few of Olli's pickups. Crowd appears to think the pickups were all good, but I doubt there's a person who here would breath under a 0.25%, so take their word as somewhat less than gospel. The crowd continues debating the validity of the pickups while the players quickly forget the event even occurred and continue on with their game.
Both players exchange points back and forth until The Big Kahuna gets himself caught on an under toe and falls tumbling to the ground.
Olli makes a few unforced errors at the end of October some long rallies, giving The Big Kahuna 10-5 lead. He angrily smashes his racquet on his leg not once, not twice, but thrice. The racquet is fine — a testament to Dunlop quality (I'm accepting applications for sponsorship by the way).
And to answer the flood of tweets coming my way, yes this reporter did play in the Amateur Nash Cup today. No, you may not ask how he did. In unrelated news, Nick Guest is a big meany poopy pants.
The third game has Olli come out with all guns firing. Not real guns, of course, as our gun laws in Canada are quite restrictive. Olli knows that he needs to put in a big show early in this game or else it, and the match, will quickly run away from him. The Big Kahuna, meanwhile, is showing no signs of slowing down or of a mental lapse. He's had a comparatively easy way through the draw so far, leaving his body feeling fresh.
4-4 in the third and Olli is beginning to look slightly slower off the mark, but his veteran knowledge allows him to generate openings with good fundamentals and some Wiley flicks of the wrist. This could be the lifeline that he needs.
Still no beer has been delivered to this reporter. Don't they know that hydration is no joke?
Olli, now looking very focused, rolls off a few perfectly placed winners, allowing him to run away with the game 11-6.
London Squash member, Jeff Tudhope, who is currently enjoying a vacation in Italy, sends this reporter a text message that the "crowd noise is very audible on stream." Jeff, you're in Italy. Go outside.
Early in the fourth game the crowd gets to witness a fantastic rally that has Olli making excellent use of the all corners in an attempt to stretch out the Big Kahuna.
Midway through the game has The Big Kahuna making a few tired movements. Some pain caused by fatigue is clearly visible on his face, but he manages to gain a 6-3 lead.
A particularly vicious rally has Olli doing the majority of the running, giving The Big Kahuna a 7-3 lead. This is dangerous territory for Olli.
Olli puts up a fight for the next few rallies to get to 6-8.
A very long and painful rally has the Big Kahuna win and get to 9-6. Both players take a moment to tie their shoes and wipe sweat of their imaginary eye guards.
After a solid 40 shot rally, The Big Kahuna takes the fourth game 11-6. Olli and The Big Kahuna share a sweaty embrace.
And in a display of excellent timing, this reporter was just offered a beer. I guess good things to happen to bad people.
Brad (Stingray) Hanebury, sig
Diego: "Happy to win, am feeling really comfortable on the court and enjoying the Nash Cup. Look forward to playing Ben or Declan tomorrow. Last year was injured here, so looking to put the record straight!!"
Declan James vs Ben Coleman
Declan wins 11-7,11-8,11-2(56mins)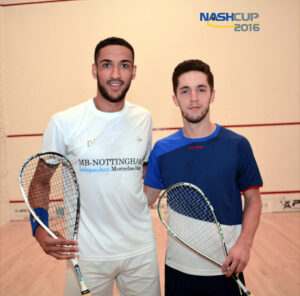 Coleman out of the traps like a greyhound! Declan using his holds and control on the left wall to establish control at the mid-point. Quality squash throughout the first game, both players using their full Arsenal, James the more clinical on the big points.
Patient rally building at the start of the second. Coleman in the ascendancy early doors but James rally's at the mid-point to equalize. James keeps up the momentum in the late stages and closes out 11/8.
Third game starts much like a backhand alley game with a boast, nip and tuck all the way. James edges his way forward, controlling the T with range and accuracy. Constant pressure resulting in unforced errors from Coleman give James an unassailable lead in the 3rd, 3-0
Declan: "wasn't as comfortable as the scores suggest. He was up in the first 2 games. I just played the bigger points well. In the 3rd I managed to pull away and play more squash. First 2 games we both did a bit the same, whereas in the 3rd I started to tactically open the court up more and take it to him. The start was pretty cagey, and when I got the lead I relaxed and it helped my squash. Think he got a bit unlucky with a few decisions and it definitely affected him. Looking forward to the final and hopefully I can bring my best squash of the week, so far I definitely haven't so…..Physically I feel fine, so that's good. I've never played Diego, he's very exciting and hopefully it'll be a clean fun match for everyone to watch."
Saturday Matches
5:00pm Open Final It will be streamed online…no guarantee on the live scoring
6:00pm Challenge Match It will also be streamed. You won't know the challenges online, but it should be fun to watch
7:00pm Women's Final Misaki Kobayashi vs Danielle Letourneau
8:30pm Men's Final Diego Elias vs Declan James
The after party will not be streamed…sorry…