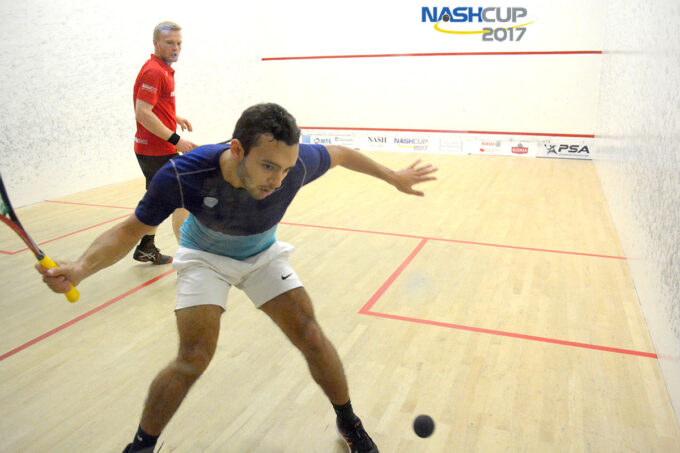 NASH Cup 2017 Day 5 Recap
Semi Finals
The atmosphere in London Squash and Fitness was electric. A sellout crowd mixed with 9 divisions of amateurs means that there was action everywhere you looked.
The NASH Cup amateur draw attracts competitors from across Ontario and a very strong contingent of players from the Detroit Athletic Club (thanks Mick!). The range of skill goes from first time competitors through to top level players. When the pro's weren't on court nobody had to go very far to find another match to see.
The action tonight was intense, as the write-ups below will attest. And stingray has returned with another commentary.
But first…a few thing to know about tomorrow:
• The silent auction is open and the first $1,500 raised will be matched by our friends at Scotiabank with the funds going to help run the Jesters University League. All additional funds raised will go to Junior Squash programs at London Squash.
• The amateur finals will begin before the PSA matches. Men's and Women's A finals at 4:30pm; The Open Finals at 5pm; and then the Annual Challenge Match at 6pm. If you haven't seen the challenge match be sure to arrive early. Ashley Davies and Lyell Fuller have confirmed for two of the three professional positions and will be joined by one other and three of our local athletes.
A big thank you to all of our sponsors!!! This event couldn't happen without you.
Reports:
Millie Tomlinson(ENG) vs Nikki Todd(CAN) 11-7,11-7,7-11,11-7(39mins)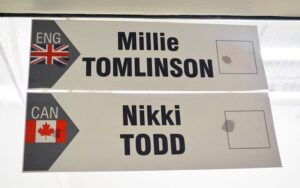 It's showtime! Jay, his game face on, is pacing in and out of the court like some emancipated whack-a-mole. Millie and Nikki seem more relaxed, however. Nikki arrives on court first. Millie makes her wait for a few minutes. Could be sending a Nadal-esque message right away. It doesn't take. Nikki's still smiling.
Nikki serves first. Long first rally as both work the backhand.
Millie jumps out to a 3-0 lead before Nikki bounces back with 3 straight emphatic points.
At 5-5 all, the partisan crowd grows louder. Some costly mistakes from the back of the court brings the score to 9-6 Millie. Nikki calls one of her own shots out demonstrating the sportsmanship we've come to love from her. Millie is relentless and at the end of the first, it is 11-7.
Some great touch at front brings Nikki the first 2 points. The pace seems to have quickened as both players seem to have switched from cautious testing length to more probing attacks.
Some unforced errors from the bad positions for Nikki combined with some attacking shots and Millie is up 6-3.
Nikki calls another one of her shots down. If there were such a thing as being "too Canadian", Nikki would be it.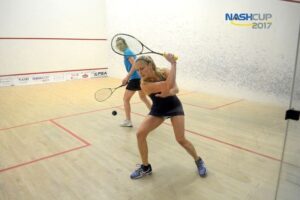 At 5-10 Nikki nicks out a serve. An unforced error by Millie 7-10. A long rally ensues, great defending from Millie. She turns the rally around and takes the game 11-7. Wow, this is a real treat. The crowd is abuzz. Perhaps it would be cheeky to suggest that a comeback is expected, but certainly the words of encouragement from the crowd suggest that everyone believes that she is still in the fight.
It starts with length that is tighter than Phil Stables' purse strings. Great rallies at 1-1 we were treated to what seemed like a 100 stroke rally. Nikki's speed and tenacity are on display as she jumps up 3-1. A devastating backhand crosscourt makes it 4-1. One can almost taste the belief in the crown rising. It tastes like ice-cream on a hot summer day (and man was it hot today!)
Back and forth they go. Nikki seems possessed. At 6-3, nary a smile has been seen for at least two rallies. A let gets called. Millie takes the next two points before going down 7-5.
At 7-6 a controversial not-up gets called and Nikki goes up 8-6. Millie makes some unbelievable reaches. Despite Nikki's seemingly perfect drops, Millie takes the point.
It's now 9-8 Nikki. 10-8. The crowd's bias is palpable.
Nikki takes the game with a wonderful backhand cross-court. 11-9.
Nikki starts the 4th with confidence. Cross court winner after a devastating hold. Then an unforced error makes it 1-1. She jumps up to 3-1 with a great display of sportspersonship as Millie calls her own shot down.
Lengthy rally ensues. Millie controls the T throughout. 6-3. 7-3. One gets the sense that Millie is dialled in now. She continues to control the T and a stroke to Millie ensues. 8-3. A great volley drop makes it 9-3. Millie's strengths are on display. A cross-court hold makes it 5-10. The crowd still has hope. We are treated to another amazing 30+ stroke rally, but it ends with a drop shot to the tin. Millie prevails

Tom Richards(ENG) vs Nathan Lake(ENG) 11-3,3-11,11-6,11-3(44mins)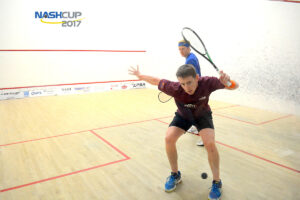 By popular demand, Brad "Stingray" Hanebury is back reporting again tonight. Tonight's match between Tom Richards and Nathan "Big Pond" Lake has attracted a great deal of interest in the underground squash betting scene. Will the youthful (and dashing) Lake prevail over the wisdom of Richards.
This reporter has noticed that Richards bears a striking resemblance to Ed Sheeran. Post match, we'll be handing him a guitar to determine just how similar they are.
For those wondering how this reporter is currently doing in the amateur event, it's none of your business. In unrelated news, Adam "Dutch" Vanwyngaarden is a big poopie pants and smelly face.
The match begins with Jay Nash taking centre court and speaking the crowd. No one can hear what he's saying over the constant hum of the crowd, and yet Jay doesn't seem to mind.
The first game sees several short rallies as the players feel each other out. Richards — dubbed the "nicest guy on tour" — finds himself with an early lead of 6-2. Conditions on the courts today are very warm and even warmer outside of the court. In fact, this might be one of the first times that the spectators are sweating more than the players. Richards showing his experience pulls away in the first game with an 11-3 wins.
Local legend and squash keener, Jeff Tudhope can be heard critiquing on the match. He was supposed to go on a second honeymoon with his wife to Italy, but he was afraid the Nash Cup live stream quality would be too poor.
The second game begins and Lake plays some quality rallies to gain a 6-2 lead. The pace of play is relentless however, and Lake's last few matches appear to be causing some ripples. Sheeran doesn't seem phased and continues his game strategy which this reporter describes as "playing really good squash." Lake hooks himself a stroke to go up 7-3, causing a frustrated Richards to tin off the next return of serve. At 10-3 game ball, Richards goes for a full stretch volley winner and just clips the tin, giving Big Pond his first big splash of the match.
Before the third game begins, the court is getting mopped up, these guys know how to make puddles.
Richards starts the third game looking more energetic. Lake, careful not the rock the boat, plays smart, tight squash. A contentious moment in the match occurs after Lake's serve hits a nick and rolls. Richards seemed to indicate he felt the walls were slippery, thus causing the irregular bounce. Regardless, Richards gets himself fired up and wins two quick points with wonderful drop shots. He follows it up with several more well played rallies to go up 7-2. At 10-5 game ball, Richards seems fully in his element. He wins the game 11-6 to go up 2-1.
While we have time before the next game begins, let's update you with some results from our amateur event:
• Gary Sullivan: didn't play
• John Anderson: didn't play, but would have lost if he did…..wait….this just in…he DID play and pulled out a win. This reporter is speechless.
The fourth game has Richards pulling away with a quick 4-1 lead. Lake, not content to roll over, picks up the pace to win the next two points. However Richards, who looks fresh and dry despite being so close to a large body of water, sticks to his game plan and gains back his lead to go up 6-3.
Local squash legend and Canadian heartthrob, Nick Sachvie, walks by this reporter and commented on the match saying "Awww yeah boyz! Brewha time!" Thanks for the tidbit, Nico. Not relevant at all, but enlightening nonetheless.
Back to match at hand and Richards continues pulling away to get 7 match balls at 10-3. Lake, moving slowly, seems to be nursing an injury. He loses the next point and allows Richards to take the match 11-3.
A great match overall with extremely high quality squash. Both players play extremely fair and gentlemen-like squash. It's going to be a pleasure to watch Richards in the finals and Lake as he continues to climb up the PSA rankings.
Signing off, for now, because he has to play another match:
• Chris' Brother
Tom: Happy with the 1st,3rd and 4th games. A little bit sloppy in the 2nd and Nathan played really well. The game got away from me a bit! Tried to put a bit of work in his legs still in that game. Was thinking more of the next couple. Felt pretty comfortable the next 2 games, I made the 1st game really hard fast pace for him, and think Nathan started to feel that in the 3rd and 4th! It was hot with this heatwave, but not crazy. Body is feeling good, feeling fresh. Hope the other semi is a battle!
Fiona Moverley(ENG) vs Amanda Landers-Murphy(NZL) 11-9,13-11,11-7(30mins)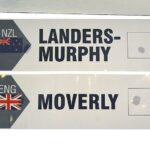 It's time! Landers-Murphy has impressed all week, and Moverley showed dominance in early rounds after such a strong recent showing in Nantes – this match was guaranteed to deliver fireworks. The first game was very close and went back and forth during the meat of the match, with Moverley pulling out the needed stops to secure the first game.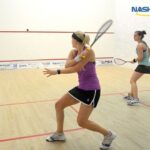 A strong start in the 2nd pushed Fiona out to an early lead. Her impressive reach proves difficult for Landers-Murphy to hit behind. Strong rallies fill the game during later points which is ultimately tied up in the middle. A couple tins and a couple traded strokes bring the match into the meat points. An error and some tight boasts seal the game for Moverley in extra points.
The third game started as the two before finished. Hard hitting and back and forth points. Tight shots jammed up Landers-Murphy, and Moverley calmly finished as she has all week. Strong play brings LM back into the game but a stroke puts it at 9-6. A sick boast back from LM followed by a tight rail brings match ball to Moverley who ultimately wins 3-0.
Joel Makin(WAL) vs Youssef Soliman(EGY) 11-6,11-4,11-7(56mins)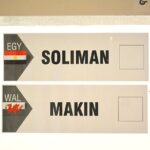 In the warm-up Youssef is looking the more confident of the two. He leaves the court and Joel remains on practicing his drop shot and preparing for what should be a very tight match between what appear to be equal opponents.
Game one: Start of the game Youssef comes on court controlling the T for the first few points but Joel is relentless comes on top with outstanding length, limiting the Egyptians creativity and taking the game 11-6
Game two: Starting the second Youssef is trying to up the pace, but couldn't really settle and be in control of the rallies. Again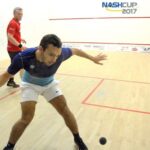 Joel coming into the second controlling the T and keeping the Egyptian to the back corners and taking the second game.
Game three: Youssef trying to make the rallies longer and being more patient but the Welshman comes on top again with some great retrieving. Joel isn't afraid to dive for shots and seems to make them count. He takes the third game for a 3-0 win. The score doesn't do justice to the quality of this match, but the time clock does. The rallies were long and highly entertaining.
This will be the first time in the 10 year history of the NASH Cup that we have had the top seeds in both finals. In the last 5 years it has happened in one or the other, but never both. In the first 5 years, when we had only a men's draw, it never happened. We will look into the history of our remaining players, and offer a pre-game summary again tomorrow. Those with tickets should arrive early.
Friday's Match Summary
5:30pm Millie Tomlinson [1] (ENG;22) bt Nikki Todd (CAN;62) 11-7,11-7,7-11,11-7(39mins)
6:30pm Tom Richards [1] (ENG;39) bt Nathan Lake [5] (ENG; 52) 11-3,3-11,11-6,11-3(44mins)
8:00pm Fiona Moverley [2] (ENG; 24) bt Amanda Landers-Murphy (NZL;44) 11-9,13-11,11-7(30mins)
9:00pm Joel Makin [2] (WAL; 47) bt Youssef Soliman [3] (EGY; 48) 11-6,11-4,11-7(56mins)